Lesson Series: "0 To 60, An Introduction to Alternate Picking" - Lesson 221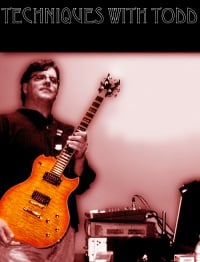 LESSON #221 - Secrets of Static Positions and Shredding
Lesson Series by Todd Simpson

FINGER YOGA!
Let's do our usual Finger Yoga stretches. Here is a link to the video for references.
SCUFFHAM S-Gear PATCH FOR TODAY
Link To Download S-Gear (Mac & PC)
HERE IS THE OVERLOUD TH2 PATCH FOR TODAY
-It's all about MIC CHOICE and BALANCE.
HERE IS THE REAPER PROJECT WITH SOLO AND BACKING
SECRETS OF STATIC POSITIONS AND SHREDDING
Let's focus on some "Static" Positions. This simply means using finger positions based on a chordal approach where we will park our first finger on a given fret and fret several strings at once then use the other fingers to dance around it.
I've borrowed this technique directly from MARK KNOPFLER of Dire Straits and just done it a bit more METAL :)
Here is a gal playing this type of thing at :49

BENS EXAMPLE FROM THE SWORD COLLAB
This example from Ben is the Melody Line in the last bit of the Collab and makes use of the technique we are talking about here so it's a great place to start! AND IT USES DOUBLE PICKING!!!