Lesson Series: "0 To 60, An Introduction to Alternate Picking" - Lesson 222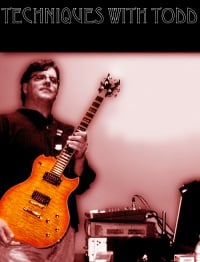 LESSON #222 - Unleashing The Right Hand
Lesson Series by Todd Simpson

FINGER YOGA!
Let's do our usual Finger Yoga stretches. Here is a link to the video for references.
HERE IS THE OVERLOUD TH2 PATCH FOR TODAY
THE RIGHT HAND AND THE KEYS TO THE KINGDOM
You may not know but you already have the "Keys to the Kingdom" of Unlimited Shredness. You just have to pick them up and unlock the gates. Let's focus a bit on the right hand. The "Key" hand. Watch this vid and take note of the right hand position.
-NOTICE MY RIGHT HAND PLACEMENT. Even though we are picking on high strings, my palm still rests on the low strings to keep the mute.

KEY #1 PLACEMENT AND PRECISION

We had a PACKED HOUSE today and it was AWESOME!!! Here is the link to the full vid chat!