Lesson Series: "0 To 60, An Introduction to Alternate Picking" - Lesson 223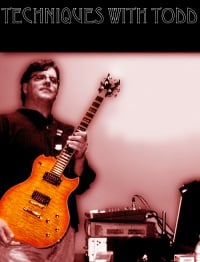 LESSON #223 - Unleashing The Right Hand II
Lesson Series by Todd Simpson

FINGER YOGA!
Let's do our usual Finger Yoga stretches. Here is a link to the video for references.
HERE IS THE OVERLOUD TH2 PATCH FOR TODAY
-Notice I"m using two 2x12 cabs here.
-This is my "template", take this and mod it to make your own tones!
ARMY OF TWO
Let's bring our left hand more into things while we keep up our Strict Alternate Picking from the previous Session.

[ http://www.ustream.tv/recorded/39822123 HERE] IS THE FULL VID CHAT LESSON!