Lesson Series: "0 To 60, An Introduction to Alternate Picking" - Lesson 240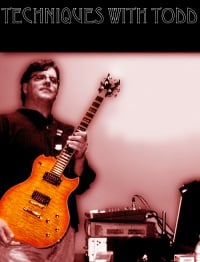 LESSON #240 - Five & Six Finger Tapping Technique

FINGER YOGA!
Let's do our usual Finger Yoga stretches.
Here is a link to the video for references.
USING A STOCK PRESET (Ex Mix 2/Guitar Gods Pack/Devin Epic Lead)
SOLO EXAMPLE:
Here is my solo using previous examples and some new bits.

PROJECT BREAKDOWN
-This is the track view of the project. The first two tracks are one recording off set to add stereo width.
-The third track is the harmony tapping
-The fourt track is the lead line with harmonics. <

It's the "stacking" of all these tracks together that gives the solo it's "tone". Without the backing, it sound terrible. WAAAY too much delay. But with the backing, it works. This is a crucial point.

TAPPING BITS THAT SOUND ALMOST LIKE AN ARPEGGIO ( FIVE FINGER TAPPING TECHNIQUE!)
TAP USING THE FIRST TWO FINGERS ON THE RIGHT HAND!!!