Lesson Series: "0 To 60, An Introduction to Alternate Picking" - Lesson 245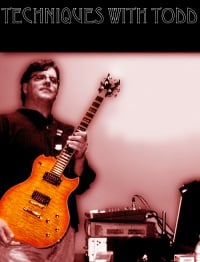 LESSON #245 - Hand Control Part IV
Lesson Series by Todd Simpson

FINGER YOGA!
Let's do our usual Finger Yoga stretches. Here is a link to the video for references.
-Using the classic "overdrive boost" trick to make our left hand work a bit easier.

ISOLATION DRILLS!
-Getting your hands to do what you want, one at a time!! So that when they are ready, they can do it at the same time!!!
FIRST UP!!!!
Make sure to mute the strings. Try the right overhand mute technique. Use your left handy only to strike/hammer notes

Now transpose 245c up 5 frets and it will be in E Minor

Try this against this backing. It's the new WINTER collab!!

HERE IS OUR ENTIRE VIDEO CHAT FOR TODAY'S LESSON