Lesson Series: "0 To 60, An Introduction to Alternate Picking" - Lesson 260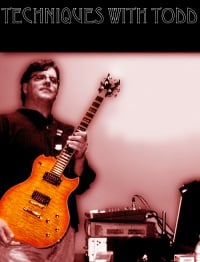 LESSON #260 - AP While Palm Muting Part II
Lesson Series by Todd Simpson

Learning to Mute and Pick with Precision
-Notice the Parametric EQ at the START of the signal chain. Turn it on and off to see the impact of "Pre-Eq" on your tone.
-Also, this bank has 3 patches. Notice the impact of varying the microphone placement on tone between each patch.

WHY DOESN'T MY GUITAR SOUND LIKE YOURS WHEN I USE THAT PATCH?
I"m using a ProTone Bulb Deluxe Overdrive as a "Boost" pedal before going in to my recording interface. This allows enough signal to hit the Overloud sim. You can use ANY OVERDRIVE pedal for this purpose. The bulb is overkill, but I still love it. Here is a demo vid.
Also, I'm using a new pickup from Seymour Duncan called the "ALTERNATIVE 8" which is their first ever production pickup to use Alnico 8, magnets. Heres a video demo for this pickup.
TRICKY BITS OF PICKING AND MUTING
We have been working on leaving our hand planted on a palm mute while picking complex alternate/economic picking shapes. Let's work on this a bit more today.