Lesson Series: "0 To 60, An Introduction to Alternate Picking" - Lesson 267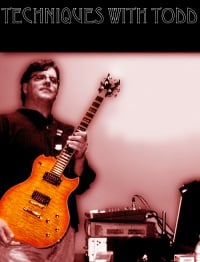 LESSON #267 - Advanced Finger Torture II
Lesson Series by Todd Simpson

HERE IS OUR TH2 PATCH FOR TODAY

QUICK BITS IN E.Q. AND GUITAR TONE
The human ear can hear roughtly 20hz to 20khz (Hz = cycles/oscillations per second of a sound wave). B being able to tweak your guitar so that it's audible in a pleasing way, within this range, is crucial.
Here is a sound wave with stair stepping.
The stair stepping represents sampling. Or a computer taking little samples of your tone. The smaller the stairs, the more "resolution" the signal has. (using guitar speak, not engineer speak). So now that we have digitized the guitar signal. Let's manipulate it.
In a high gain amp, the highs and lows tend to "bunch up", and the more gain you add the worse it gets. So reducing the lows and highs a bit before the guitar signal gets to the Amp Head/Distortion Stage, can make your sound MUCH tighter and clearer.
TRY (using a parametric eq)
-Reducing below 200hz
-Increase a pinch at 1.6 khz
-increase a pinch at 5khz
This will tighten up your sound and make pick attack more clear. Just adding treble, as many do, just makes the fizz problem worse.
Parametric E.Q.s can seem confusing at first but they are not. It's just a dial to pick the part of the tone you want (e.g. 200hz) and a knob for turning the amount of that part up or down (e.g. +/- 20db "decibels") and a knob to determine how much the part of the tone you've chosen will impact tones around it (e.g. the Q knob).
-Here is a four band parametric eq from my Avid Eleven Rack editor.
You can use eq before and after your distortion stage for incredible tone shaping. Being able to control what hits the distortion, and what the signal sounds like coming out before being recorded can give you the tone you want, any time you want it, recorded like you want.

FIRST UP!!!
Let's get going by doing a little review. We left off with this piece and I wanted to give you guys some time to work on it before we met again today.