Lesson Series: "0 To 60, An Introduction to Alternate Picking" - Lesson 272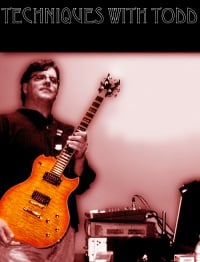 LESSON #272 - Prog-Gnostication II
Lesson Series by Todd Simpson
Proggy Bits and Picking Precision Cont'd
HERE IS OUR TH2 PATCH FOR TODAY
-Notice how variations in just the post amp EQ settings make this patch sound different from yesterdays. EQ is the most crucial element in your tone IMHO even above your gain stage. Pre-EQ and Post EQ determine the impact of your tone.

ONCE MORE IN TO THE BREACH
This lesson will conclude our foray in to using our lead picking techniques on rythm guitar bits. Hopefully you've got some muscle memory built up and these licks should be straightforward

Let's break down a long guitar lick in to easier bits. Here is the first part.

HERE IS THE FULL VID CHAT STREAM!
Per our discussion today, I've set up a JAMAKAZAM.com band project for us.
Join up at www.jamakazam.com then go to this link.