Lesson Series: "0 To 60, An Introduction to Alternate Picking" - Lesson 281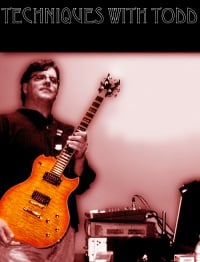 LESSON #281 - Using Picking to Create Tension
Lesson Series by Todd Simpson

HERE IS OUR OVERLOUD PATCH FOR TODAY
-Using a "Plate Reverb" and added a new delay unit. Turn them off to see the impact on tone.
The time has come to start making BETTER LOOKING VIDEOS!!! Here's how to do it without breaking the bank.
Let's warm up and get going!
FINGER YOGA!

ALTERNATE PICKING WHILE PALM MUTING
No other technique seems to give folks as much trouble as clean alternate picking while palm muting. Let's work on this a bit as it will give your solos great range/dynamics. It creates a very percusive lead sound used by some killer players (Vai, Nuno, etc.)
-The trick is to keep your palm mute planted and pick as much as you can using the finger and thumb instead of the wrist. Many times, folks that have developed a habit of muting with their left hand have serious trouble with this. The good news is, it's easy to fix