Lesson Series: "0 To 60, An Introduction to Alternate Picking" - Lesson 283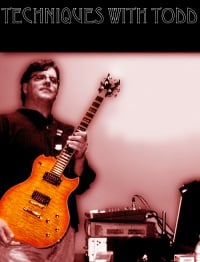 LESSON #283 - Beyond Tripeggios
Lesson Series by Todd Simpson

HERE IS OUR OVERLOUD TH2 PATCH FOR TODAY
-Notice how the delays/reverbs impact the tone. Turn them off and on to see the diff. You can use delay/reverb as a tone shaping tool beyond ambience.
Let's warm up and get going!
FINGER YOGA!

BEYOND TRIPEGGIOS
Let's work a bit on building some licks that push the limits of our stretch and our pinky. These are notorious weak spots for many players. We have done lots of work with "Tripeggios". Let's try to use some of those shapes but in an alternate picking/string traverse context. Let's start with something very very simple to use as a base.

VIDEO CHAT STREAM