Lesson Series: "0 To 60, An Introduction to Alternate Picking" - Lesson 285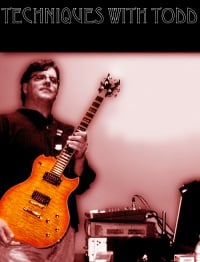 LESSON #285 - Combining Picking Techniques
Lesson Series by Todd Simpson
HERE IS OUR OVERLOUD TH2 PATCH FOR TODAY
-There are two presets in this patch. The ONLY difference is a different cabinet (the first of the two cabs) in one patch. Take note of the impact on tone of just changing this one variable.
Let's warm up and get going!
FINGER YOGA!

HAVING IT BOTH WAYS
Today we are going to work on combining our ALTERNATE PICKING work with our ECONOMIC PICKING work. We are going to use both type of picking in the same lick. Being able to transition between AP/ECON on the fly is a crucial skill and yet another arrow in your quiver of tools

First up
Something using familiar shapes so you can focus on picking! NOTICE THE PICKING NOTATION in the first bar.

HERE IS OUR VIDEO CHAT FROM TODAY!
-Two vids. Had to restart
Part I
Part II