Lesson Series: "0 To 60, An Introduction to Alternate Picking" - Lesson 287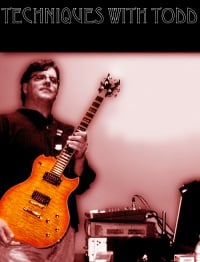 LESSON #287 - Lead Guitar With Backing
Lesson Series by Todd Simpson
HERE IS OUR OVERLOUD TH2 PATCH FOR TODAY
-After learning some licks from KRIS DAHL in chat, I'm using a very LOW gain patch today. Here are five presets in one patch. A couple are VERY low gain which is rare for my patches

Let's warm up and get going!
FINGER YOGA!

ALL ABOUT THE LEAD BITS!!
We have been working on building up our technique for several sessions. Let's work on putting all this effort to good use! Today we are going to apply much of our work together to soloing over a backing.
In this case, it's a Cover Tune that I'm working on with a band called ANTI-M. It's a song written by DELAIN called "See me in Shadow". Here is the solo section.
You can download it from soundcloud.

First up!!
Our first lick makes using of BARRING. Use the FIRST FINGER to BAR @ 8th Fret.