Lesson Series: "0 To 60, An Introduction to Alternate Picking" - Lesson 290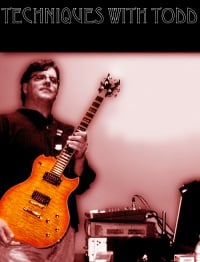 LESSON #290 - Breaking Through Your Barriers
Lesson Series by Todd Simpson
Secrets of Faster Picking and Cleaner Playing
HERE IS OUR OVERLOUD TH2 PATCH FOR TODAY
-New Rack Gear Layout and Parametric EQ changes. Compare this to yesterdays patches. Notice how even small changes can impact tone.

Let's warm up and get going!
FINGER YOGA!

THE SWITCH IS QUICKER THAN THE EYE
Being able to "switch" hand positions without creating a slide sound or extra string noise is technique that will help you sound like a more controlled and better player. Let's work on that a bit here. Try to keep each note distinct.