Lesson Series: "0 To 60, An Introduction to Alternate Picking" - Lesson 299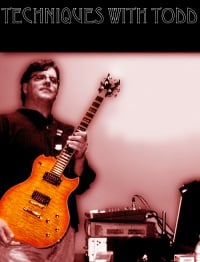 LESSON #299 - Double Stop/Double Down
Lesson Series by Todd Simpson
HERE IS OUR OVERLOUD TH2 PATCH FOR TODAY - Based on the LYNCHBOX!

Let's warm up and get going!
FINGER YOGA!

DOUBLING DOWN
Today we are going to leverage some of the picking work we have been doing in previous sessions. Together with ECONOMIC PICKING and ALTERNATE PICKING we are also going to add some left hand variations in to some licks which should be familiar by now, hopefully

First up! Let's get our ECONOMIC and INSIDE ALTERNATE PICKING flowing with a very simple lick that also makes a spiff backing solo over


Next up! Let's get our STRETCH going with a modification of a lick from last time. You will need your pinky!!!!!!