Lesson Series: "0 To 60, An Introduction to Alternate Picking" - Lesson 300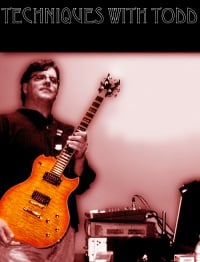 LESSON #300 - Graduation Day
Lesson Series by Todd Simpson
HERE IS OUR OVERLOUD TH2 PATCH FOR TODAY

Let's warm up and get going!
FINGER YOGA!

IT'S GRADUATION DAY!
We have have had 300 Lessons Together! HUGE PROPS to you guys for showing your Steel and representing on the Field of Battle for 300 Sessions!!!
Today, we are going to put your work to the test. These chops will push you to your limit. So let me say again DO NOT PLAY TO THE POINT OF PAIN. If it starts to hurt, STOP!!!

FIRST UP!!! PINKY SLIDES!!!
Remember The Pinky Slide? Good!! Here we go!