Lesson Series: "0 To 60, An Introduction to Alternate Picking" - Lesson 301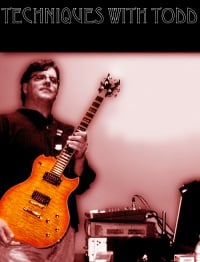 LESSON #301 - NeoClassical Chops
Lesson Series by Todd Simpson
HERE IS OUR OVERLOUD TH2 PATCH FOR TODAY - The RANDALL T2 is Back!!!
Alternate Patch sounds!!(Dryer for practice)

Let's warm up and get going!
FINGER YOGA!

IF IT AIN'T BAROQUE...
Let's work on some Neo-Classical"ish" bits. This is the backing that we learned last time. We are going to use it to solo over and as a COLLAB!!!!!

First up! Let's play something easy and familiar to get your hands warmed up and your fingers moving in the right direction.

HERE IS A LINK TO OUR VID CHAT!