Lesson Series: "0 To 60, An Introduction to Alternate Picking" - Lesson 309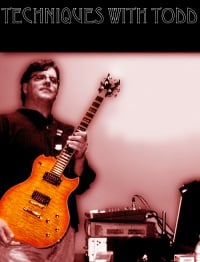 LESSON #309 - Prognostication
Lesson Series by Todd Simpson
(Progish Metal Using Bizarre Techniques)
HERE IS OUR OVERLOUD TH2 PATCH FOR TODAY - Using the LYNCHBOX withe Brunetti Cab. American Muscle with Italian Swagger. Nice.

- About $3,000 worth of gear, but thankfully, we have plugins!

Let's warm up and get going!
FINGER YOGA!

PROG - GNOSTIC
Today, we are going to use some rather off hand techniques explore some of the more "Prog"ish elements of guitar work. Including.
1.)Intermittent Picking - Picking only every two or three notes in a rythm.
2.)Chromaticism - In building Guitar Rythms.
3.)Employing single note shapes/vs chords.

Take note of the PICK NOTATION.
Let's get to it


HERE IS OUR VIDEO CHAT FROM TODAY!!