Lesson Series: "0 To 60, An Introduction to Alternate Picking" - Lesson 324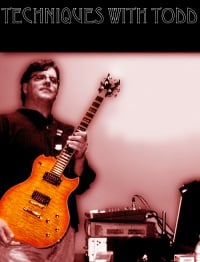 LESSON #324 - Foundation vs Flurry
Lesson Series by Todd Simpson
FINGER YOGA! (Always Warmup BEFORE Playing)
As Sensei Ben Higgins (E.G., U.k. Yoda) often points out, "Beneath all the Fury and Bluster of the best shredding, lies the fragrant flower of fine note choice, careful phrase construction, and musical restraint"
To wit, today's lesson, featuring the SOULFUL BALLAD COLLAB!!!!
LINK TO COLLAB
DOWNLOAD TODAY'S OVERLOUD TH2 PATCH
MY TAKE
Dedicating this solo to my Dad who is back in the Hospital yet again tonight, spending the night for observation due to his heart. Hopes/prayers/positive thoughts appreciated!
Youtube Preview (M.C. Escher Version)


FIRST UP!!!
Let's get control of our fingers before we dive in to the SOLO BITS!!!
HERE IS OUR FULL VID CHAT FROM TODAY!!