Lesson Series: "0 To 60, An Introduction to Alternate Picking" - Lesson 326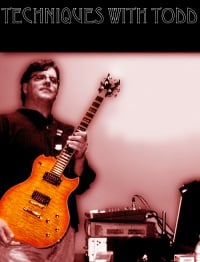 LESSON #326 - Putting It To Good Use
Lesson Series by Todd Simpson
FINGER YOGA! (Always Warmup BEFORE Playing)
TONE FOR TODAY:
-Using Toontrack EZ MIX 2: Guitar Gods (IA Solo 1)

PUTTING IT ALL TO GOOD USE
Let's put our work to good use and apply our spiff bits to a solo!! In this case the GMC COLLAB from our own TAKA PERRY called "FUSING THE GENRES"
Here is the link to the collab page.
The collab is in E Minor (my fave scale!)
Here is my Take - Recorded using:
-Laptop
-Rockmaster Videogame Cable
-ezmix2 for guitar tone
FIRST UP!
Before we dive in, let's wake our fingers up with a bit that we started on last time but that seemed to throw a few folks. I'm hoping you've had some time to look at it, if it's new, look quick!!!

HERE IS OUR VIDEO CHAT FROM TODAY!