Lesson Series: "0 To 60, An Introduction to Alternate Picking" - Lesson 336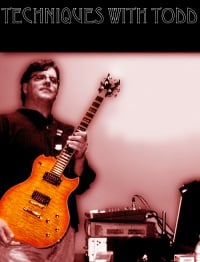 LESSON #336 - Synch or Swim!
FINGER YOGA! (Always Warmup BEFORE Playing)

SYNCH or SWIM!
As you may have noticed, I'm a BIG fan of Right/Left hand Synchronization. This is an area that many folks really struggle with. I'm no exception. Getting my hands to "talk" to each other was quite a bit of work. Today, let's dive in to that just a bit


FIRST UP!!!
Let's get going with a bit of a rythm/lick bit. It is much more fun than playing a straight hand drill and the syncopated timing makes it sound spiff

Here is a simplified version of a more complex riff. Let's start out more simple and work up to crazy.