Lesson Series: "0 To 60, An Introduction to Alternate Picking" - Lesson 370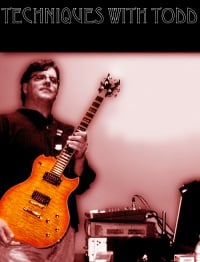 LESSON #370 - New Ways II
FINGER YOGA! (Always Warmup BEFORE Playing)

NEW 2 ME, NEW 2 YOU?
Let's explore new ways of approaching picking patterns when they involve more than a couple of strings. Adding the third string in complex, walking patterns often puts strain on the picking hand. This can be alleviated by simply finding the spots where ECONOMIC PICKING makes the strike pattern more efficient.
First, let's warm up using a familiar pattern that we can pick each note or use our "strike once hammer many" technique on.