Lesson Series: "0 To 60, An Introduction to Alternate Picking" - Lesson 61
(Difference between revisions)
---
Current revision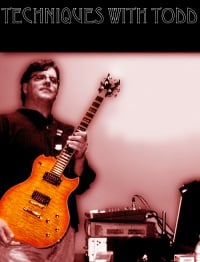 LESSON #61 - Inside / Outside Picking and Working Your Stretch!
Let's focus again on our picking. In this lesson, we will take advantage of some of our previous picking work and work we have been doing to increase our flexibility. If you have missed a few lessons, don't worry, you should have no problem playing everything we are going to cover today without prior exposure.

WORK YOUR STRETCH
Watch this short video for some examples of some handy "Finger Yoga"!

WORK YOUR PICKING!!
Here is the first set of tablature. This lick is going to be played later on in the lesson against a backing track so you can see how in sounds "In Context".

(Click below to download the Guitar Pro 5 File for 61a)
61a_3_4.gp5 ( 1.67K )

Let's take that same shape and work on adding Alternate Picking / Economic Picking and see if we can work our speed up a bit. You can use either Alternate or Economic Picking here depending on what feels better for you.

(Click below to download the Guitar Pro 5 File for 61b)
61b_3_4.gp5 ( 1.74K )

Now let's add a Pentatonic Lick to our work. This too will be played against the backing.

(Click below to download the Guitar Pro 5 File for 61c)
61c_3_4.gp5 ( 1.54K )
BONUS: Optional Shred Fun
Now let's combine everything we've learned and play it with some music. Here is the backing track: Lesson61.mp3 ( 1.33MB )