Lesson Series: "0 To 60, An Introduction to Alternate Picking" - Lesson 69
(Difference between revisions)
---
Current revision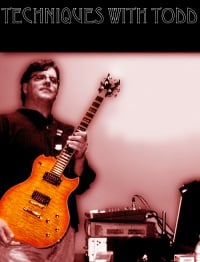 LESSON #69 - Building A Solo, Employing Previous Techniques
In this lesson, we are going learn some licks that can be used in a guitar solo. They can also be used as practice drills. Here is a quick demo of me using some of these licks in the context of a guitar solo. The track is a Collab from Cosmin Lupu.

let's warm up a bit and get our fingers ready to rip! - FINGER YOGA!
Let's do our usual Finger Yoga stretches. Here is a link to the video for references:

We are going to do a series of increasingly complex licks. These will help your hands get used to changing shapes each time they move.

Take a look at our first tablature. The Easiest of the bunch.

Here is the Guitar Pro Tablature File.

Now, if you are not locked in with a solid tempo, try using a metronome or a click drum track to help keep time.

And the Guitar Pro Tablature File.

Now let's invert this pattern and try it with the metronome, working up some speed as we go.

And the Pro Tablature File.
LESSON LINKS / FILES

Here is the GUITAR RIG CUSTOM PRESETS I used on the solo. This one is the "PsychoSynthetic" that sounds almost like a synth.

This is the patch for the middle section.

Free Software For Recording (Guitar Rig Free, and Pod Farm Demo and Reaper, etc.)