Lesson Series: "0 To 60, An Introduction to Alternate Picking" - Lesson 76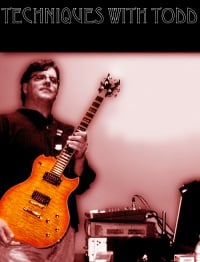 LESSON #76 - Ninja Guitar E.G. Ben Higgins Influence Strikes Again!
Here is a Preview of Today's Lesson. (In the Key of "Melt Your Face" Ala Paul Gilbert) It's actually in E Minor.

Let's warm up a bit and get our fingers ready to rip! - FINGER YOGA!
Let's do our usual Finger Yoga stretches. Here is a link to the video for references.

ON TO THE NINJA TRAINING!

First up, let's get used to playing a decent stretch pattern up higher on the neck. This will give your fingers the muscle memory for playing the final piece.

WARMUP 1
Here is the Guitar Pro File.

Let's add a bit of "Back and Forth to this"

WARMUP 2
Here is the Guitar Pro File

TIGHTENING UP THE PATTERN/PICKING

Now let's turn off the open string and focus on picking. (Here is the Guitar Pro File)

-Now let's (of course!) Double Pick This!
-And Triple! (Apply Frozen Peas to Forearm)
-And Quad Pick!


ADDING BENDING
Not to neglect our Bending skills let's add this lick in from GMC Lesson 67. It's a classic Blues/Rock lick that will let us work on our Bend technique and sound cool as a bonus in our soloing over the backing.
Here is the Guitar Pro File
BUILDING MUSCLE MEMORY
Let's run a pattern than will help burn the final shape in to our hands and fingers. Here is the Guitar Pro File

FINAL STAGE (Boss Level)

Now let's jump in to "Crazy Land" and give this a shot. Here is the Guitar Pro File