Lesson Series: "0 To 60, An Introduction to Alternate Picking" - Lesson 77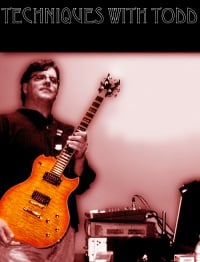 LESSON #77 - Playing without gaps and keeping up
In this lesson we are going to work on modifying our picking to allow us to play a bit faster than we otherwise could. Here is a preview of a guitar rythm we are going to work with.

Let's start with our usual warm up. - FINGER YOGA!
Let's do our usual Finger Yoga stretches. Here is a link to the video for references.

GAPLESS PART 1
This first shape is "Down 3 Up 1" which is something that should be familiar. Let's single and double pick this and movie it up the neck. It will work our picking and stretch.

GAPLESS PART 2
Let's add a single string shape to work up some crazy speed. Once you know the shape, play the "Pedal Tone" (First Note) Twice, then play each non pedal tone once.
GAPLESS PART 3
Let's insert a gap briefly to counterpoint today's work. This is the pattern for our BOSS LEVEL pattern.
GAPLESS PART 4
This shape should be familiar from Lesson 76 (Ninja Ben's Influence). We are going to play an inversion and keep it moving.

GAPLESS GUITAR RYTHM
This rythm is designed to be difficult to play at speed. Don't beat yourself up about not being able to play it fast right away. It just takes a bit of time and of course practice.