Lesson Series: "0 To 60, An Introduction to Alternate Picking" - Lesson 79
(Difference between revisions)
---
Current revision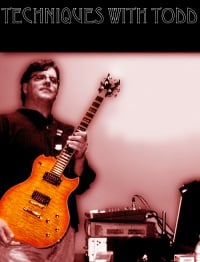 LESSON #79 - DJENTLEMEN
Lesson Series by Todd Simpson

Here is our BACKING TRACK. Download it so you can shred over it later!

FINGER YOGA!
Let's do our usual Finger Yoga stretches. Here is a link to the video for references.
DJENT OR NOT DJENT?

In this lesson let's take some cues from what has come to be known as "Djent", despite Misha's (Periphery) attempt to fight it, it's become a Metal Subgenre. Onward Djentlemen!
First up, let's get our hands used playing Diatonic structures to give them some muscle memory. This is a very simple shape so we can work up some killer speed. This shape is used quite a bit in DJent.
79 PART A
Here is the GuitarPro5 File

And the Tablature
79 PART B
Here is the GuitarPro5 File

And the Tablature
79 PART C
Here is the GuitarPro5 File

And the Tablature
79 PART D Here is the GuitarPro5 File

And the Tablature