Lesson Series: "0 To 60, An Introduction to Alternate Picking" - Lesson 86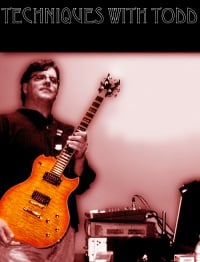 LESSON #86 - Extremes of reach and speed
Lesson Series by Todd Simpson

In this lesson, let's explore our reach and our speed a bit. We have been stretching forever so let's put it to good use! Let's warm up by doing our usual finger yoga. It's really important this time in particular. Here is our backing for today that we will solo over. Give it a listen during our Finger Yoga. It's a bit "Racer X".

FINGER YOGA! - Let's do our usual Finger Yoga stretches. Here is a link to the video for references.
WARMUP

Now let's dig in to our warmup shape. This may seem a bit much at first. IF so, we can start up higher and work lower. This shape is part of our scale (A AEOLIAN) That we are going to be working with Today.

Associated Tablature

Let's move that around a bit and get used to the stretch. Perhaps work it up the neck?
WORKING THE STRETCH (String Focus OPEN AND SINGLE)

This is a very important section. Let's start picking once on the open string and hammering on the rest. Then alterate pick the hole thing. Then go all the way up and back down, then try it on the low E.

Associated Tablature
WORKING THE SPEED (String Focus CLOSED AND SINGLE)

(Coming soon)

ADDING HAMMER ON/TAPPING (OPEN AND SINGLE)

Let's do a four finger tapping version of this lick.

Associated Tablature
WORKING UP THE NECK

Let's do some palm muting with our alternate picking as we move this shape up the neck in the key of A Minor.

Associated Tablature
BOSS LEVEL

Now combine all of these and play them with the backing as solo licks. In any order, at any speed. Let your creativity take over and make the licks your own!

Practice! Todd