Lesson Series: "0 To 60, An Introduction to Alternate Picking" - Lesson 88
(Difference between revisions)
---
Current revision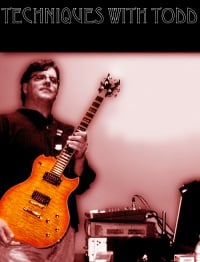 LESSON #88 - AP/Eco/Shred and the Zen of Picking
Lesson Series by Todd Simpson
Let's try to expand on our picking and our reach just a bit and pull in some more Neo Classical influence along the way

But first, STRETCHING!

FINGER YOGA! - Let's do our usual Finger Yoga stretches. Here is a link to the video for references.

DOUBLE TIME!
Let's jump right in!

AND STREEEETTCCCHHHH!
And now, for a big of STREEEEETTCCCHHING the fingers out to prep for our lead licks.
POWER METAL MADNESS

It's time to use our skills built so far in this lesson to help us master our "L:ead Licks" for the backing. The good news is your mostly there! Just some slight variation.