Lesson Series: "0 To 60, An Introduction to Alternate Picking" - Lesson 96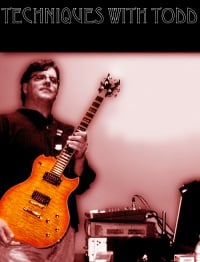 LESSON #96 - All hands on deck
Lesson Series by Todd Simpson

Let's warm up and get going!

FINGER YOGA!
Let's do our usual Finger Yoga stretches. Here is a link to the video for references.

Today, we are going to use a bit from the AWESOME new Ben Higgins Collaboration. If you have not signed up for this collab, go sign up! It's just EPIC!
Here is the link to Ben's Collab

Let's get our fingers up to snuff a bit before we get in to this. We have been working quite a bit on our stretch of late, so hopefully this series will be quite easy. If not easy, hopefully it will be at least possible. let's start easy.

BACK TO THE PINKY! GETTING LOST IN THE LAND OF LEGATO

Adding a bit of a stretch

TRIPLE DOWN!

Let's add a third note

A MINOR RETURNS
As part of our Backing is in A MINOR and we have been working on hammer ons, let's hammer on A minor. We have done lots of single string work in the past, but typicaly moving a single shape as we did earlier. We are now going to shift the shape at each position so your fingers will need to be precise.
TAPPING/HAMMERING WITH BOTH HANDS AND 4 NOTE GROUPS (4 Finger Tapping)

This is the part where we put it all together. We've done four finger tapping in the past and it was a bit of a struggle for some, so I thought we could use a bit more practice. Not to mention, we have been doing picking workouts for the past month so I thought a bit of tapping would be a good change of pace :)

BEN'S BACKING TRACK (Our Chunk of it from Today)