Lesson Series: "0 To 60, An Introduction to Alternate Picking" - Lesson 102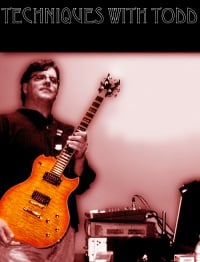 LESSON #102 - Rock Licks and Spiff Tricks!
Lesson Series by Todd Simpson

FINGER YOGA!
Let's do our usual Finger Yoga stretches. Here is a link to the video for references.

Here is a custom OVERLOUD TH2 patch for today.
If you don't have TH2 Go get the demo and try this patch!

RUNNNING AROUND COLLAB : BEN HIGGINS
Today's lesson is based on the "Running Around" collab from Ben Higgins.
HERE IS THE BACKING TRACK TO PLAY OVER!
Here is what we are going to learn today. Some spiff licks/chops that work well over this backing.
Here is a preview.
PART 1 WARMUP AND BEYOND, WAY BEYOND

SINGLE STRING WORK!
-Start on the high E, then try each string.
-Of Course! We have to DOUBLE and TRIPLE and QUAD PICK this!
ENDURANCE ENDURANCE ENDURANCE! DON"T PICK FROM THE ELBOW!