Lesson Series: "0 To 60, An Introduction to Alternate Picking" - Lesson 106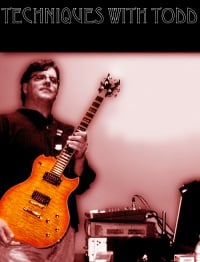 LESSON #106 - (Lesson #5 Redux) Advanced right hand - left hand synchronization Part II
Lesson Series by Todd Simpson

HERE IS THE CUSTOM OVERLOUD TH1 TRIODE PATCH FOR TODAY
Let's warm up and get going!

FINGER YOGA!
Let's do our usual Finger Yoga stretches. Here is a link to the video for references.

Let's expand on our STREEEEETTCH and Alternate Picking work a bit.
Here we go!
PEDAL POINT

Let's work on PEDAL POINT stuff a bit today. We did some of this in the original LESSON 6, let's expand on that. Here is a review definition of 'Pedal Point"

"In tonal music, a pedal point (also pedal tone, pedal note, organ point, or pedal) is a sustained tone, typically in the bass, during which at least one foreign, i.e., dissonant harmony is sounded in the other parts. A pedal point is a "nonchord- tone", which puts it in the same musical categories as suspensions, retardations, and passing tones. However, the pedal point is unique among non-chord tones "in that begins on a consonance, sustains (or repeats) through another chord as a dissonance until the harmony" not the non-chord tone, "resolves back to a consonance."

In case that doesn't make much sense, think of the PEDAL POINT as the STARTING NOTE That you are going to keep coming back every other note, or every two or every three notes.

Here is our first shape. Let's:

STRICT ALTERNATE PICKING!


Try it on each string
Double Pick it
Try it other places on the neck.