Lesson Series: "0 To 60, An Introduction to Alternate Picking" - Lesson 113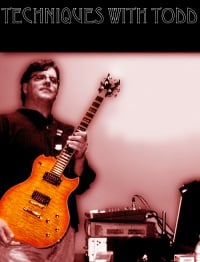 LESSON #113 - (Lesson #13 Redux) Inversions and alternate picking in context
Lesson Series by Todd Simpson

FINGER YOGA!
Let's do our usual Finger Yoga stretches. Here is a link to the video for references.

HERE IS THE CUSTOM OVERLOUD TH1 TRIODE PATCH FOR TODAY
-Two Patches in this Bank!
-One with EQ FIRST in Pedal Chain
-One with EQ LAST in Pedal Chain (Compare these to see how EQ placement in the signal chain impacts tone)
INVERSIONS IN CONTEXT WITH ALTERNATE PICKING ( A MIinor)
We've been working on our ALTERNATE PICKING and we have worked on INVERSIONS. Let's combine these. Each SINGLE PICK workout is meant for Strict Alternate Picking (No Economic or Legato). When we move to DOUBLE PICK sections in the tablature, all bets are off and any way that works for your hand works for the bit.

Here we go!
-Keep the thumb in the center of the neck if possible.
-Use a sharp pick if possible.
-Sit in "classical" position if possible.
-Palm Mute EVERYTHING.


Play these with a metronome and keep good form. Once you get used to the pattern move it around and see about increasing precision and speed. This last bit will work as a solo lick for any Song/Section in the key of A Minor or A Pentatonic.

Here is a BACKING TRACK with an EXAMPLE SOLO for the lick we worked on in LESSON 113. Enjoy!
Practice!
Todd