Lesson Series: "0 To 60, An Introduction to Alternate Picking" - Lesson 144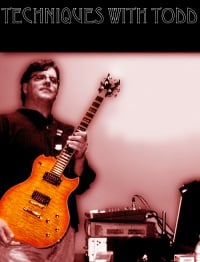 LESSON #144 - (Lesson 44 Redux) Mixing and matching (Combining Different Ascending and Descending Picking Sequences)
Lesson Series by Todd Simpson
FINGER YOGA!
Let's do our usual Finger Yoga stretches. Here is a link to the video for references.
Here is Today's OVERLOUD TH1/TH2 Patch that I"m using during the lesson.

FIRST UP: Let's do a bit of Legato Work just to get the hands moving a bit.
-Once you've got it, try to PICK this as well, and Double Pick if Possible.
MIXING AND MATCHING
Let's try to combine two different ways to run a scale and do something different for ascending than descending.
-Alternate or Economic Picking (Follow your hand)
-Try to Single and Double.