Lesson Series: "0 To 60, An Introduction to Alternate Picking" - Lesson 78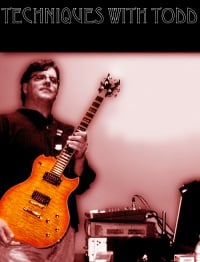 LESSON #78 - Shredding the blues

In this lesson we are going to add a bit of shred to the blues. These shapes should be familiar so we can focus on our picking and our speed a bit more than on our left hand workLet's warm up! - FINGER YOGA!
Let's do our usual Finger Yoga stretches. Here is a link to the video for references.

BLUES - FEELING THE SHRED.

Here is our backing for today.
And here are ALL of the Guitar Pro 5 Files in one handy zip!

Let's look at our first shape.

Let's play this with our backing as well and try to double/triple pick it!
Let's add to this shape.

Now let's move up the neck a bit and put a bit of a strech in to things.

This one will be a bit of a challenge at first, but your hand will adapt right away.

Now let's put one of our "Paul Gilbert" style licks in.

BONUS:
Here is our bonus lick. It's a rythm from 77 that was just to much for our last get together. It's a great way to work up your inside and outside picking.