Lesson Series: "0 To 60, An Introduction to Alternate Picking" - Lesson 81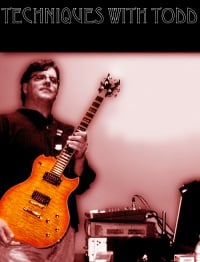 LESSON #81 - Spooky Rhythms and Riffs
Lesson Series by Todd Simpson

Let's give our lesson a bit of a Spooky vibe in light of HALLOWEEN!. Changing a pattern but just a couple of notes can have a big impact on it's sound. Let's explore that a bit and work on our alternate picking and picking between strings.

FINGER YOGA!
Let's do our usual Finger Yoga stretches. Here is a link to the video for references.
WARMUP

Let's give our fingers a bit of advanced warning on whats coming up with a warmup shape.
SPOOKY PATTERNS ACROSS STRINGS

This shape has a bit of a "spooky" vibe as it's based on a Minor shape. Going across strings and alternate picking/economic picking takes practice but its worth it. Let's take this shape and march it over the neck.

Now let's make the shape sound a bit more "happy" and work on our picking there as well.
BACKING TRACK/SOLO WORK

Let's carry over with a pattern we used for a lead shape in our last lesson and use the same pattern as a rythm. Some patterns/shapes work well as both. Feel free to use hammer on/pull off techniques as this doesn't need to be strictly picked.

Here is the backing track.

And the shape from last time with a slight mod in two positions.

This is a Pentatonic shape and has a KEY SHIFT (Shifting or "Modulating" from G to F#) Let's practice playing a solo and shifting down with the rythm so our solo stays in key.

Let's start our lick in A then move down to F#. Same exact lick, just shift it down.