Lesson Series: "0 To 60, An Introduction to Alternate Picking" - Lesson 82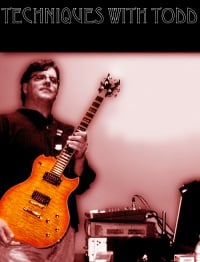 LESSON #82 - Reverse and Inverse
Lesson Series by Todd Simpson

In this lesson, we are going to work on Alternate Picking per usual and do it in the context of our backing track and throw in some inversions for fun! Let's stretch and warmup!

FINGER YOGA!
Let's do our usual Finger Yoga stretches. Here is a link to the video for references.

INVERSIONS
Let's work our alternate picking and our economic picking with the shape we just did so we can get a bit further a bit faster.

MIXING SHAPES WITH INVERSIONS
Now that we have some practice with inversions, and picking, let's use the Minor Scale shape which means doing a different shape on each of the two strings. Let's march this around as well.
This is actually a lick that we will use with our backing. We have worked up to it, so it should be workable once we play it with music.
MIX AND MATCH PICKING/PULL OFFS
Let's take a semi novel approach to a familiar scale. Let's stay in the Minor Scale and add pull off's as well as alternate picking.
BACKING TRACK
Here is Today's Backing. Download it so you can practice these licks with music.