Lesson Series: "0 To 60, An Introduction to Alternate Picking" - Lesson 88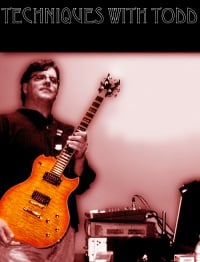 LESSON #88 - AP/Eco/Shred and the Zen of Picking
Lesson Series by Todd Simpson
Let's try to expand on our picking and our reach just a bit and pull in some more Neo Classical influence along the way

But first, STRETCHING!

FINGER YOGA! - Let's do our usual Finger Yoga stretches. Here is a link to the video for references.

WARMUP - JUMPING RIGHT IN!

Here is our Backing for today with a solo lick.
And here is the OVERLOUD TH1 TRIODE custom patch Im using in today's Lesson.

Let's do a descending triad pattern to warmup. Strike once per string, E then A, then hammer on the rest and descend. Let's try this on several strings.


It's almost a sweep/arpeggio sort of thing.

Also, let's try to pick each note for a couple of passes to get the blood going!

DOUBLE TIME!

Now let's jump to our next shape. It's just a slightly tougher version of what we just did. And repeated once more for good measure. So twice through then move down a fret.

Let's move this around and then pick each note, then double pick!

AND STREEEETTCCCHHHH!
And now, for a big of STREEEEETTCCCHHING the fingers out to prep for our lead licks.
Strike once then hammer on the next two notes. Then let's pick all of them, and oh... maybe... double pick!
POWER METAL MADNESS

It's time to use our skills built so far in this lesson to help us master our "L:ead Licks" for the backing. The good news is your mostly there! Just some slight variation.

ABOVE AND BEYOND

Let's take a shape from last time and add some to it. This shape is complex and with the extra notes, it's almost an etude in itself. It is a great way to work on your picking. Let's loop it and march it up the neck! If you can double pick this, congrats you RAWK!