Lesson Series: "0 To 60, An Introduction to Alternate Picking" - Lesson 91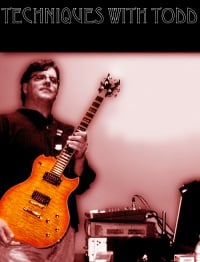 LESSON #91 - "Inverted Hammering/Tapping" And "Fret Skipping"!
Lesson Series by Todd Simpson

Today we are going to introduced some techiques we have NEVER DONE BEFORE! But first...

FINGER YOGA! - Let's do our usual Finger Yoga stretches. Here is a link to the video for reference.

Our first lesson of the year! Let's jump right in


TODAY'S CUSTOM OVERLOUD TH1 PATCH
This patch is built just for you! It requires no extra gear to pump up the signal. I built it using a guitar and computer. No direct box, no outboard gear of any kind. So even if you plug in directly to your computer and skip the recording interface, this patch will still have WADS of gain.

Patch Screen Grab

First up, let's do a warm up. Let's try this as a pull of workout and as an alternate picking workout. First, let's just strike the first note and hammer/pull the rest.

Now let's Alternate Pick it.

As a bonus, let's DOUBLE PICK IT! (Pick every note twice)
PLAYING WITH INVERTED HAND POSITIONS:
Let's try something we have never done before in honor of the new year. We are going to use both hands and do some hammering but do it sort of backwards.
So play the third fret with you left hand, And play the higher fret with your right. Let's loop this.

Now that we have the hang of it, let's combine our "Fret Skipping" and our new approach to tapping/hammering.

JUMPING AROUND

Let's use these same notes and do some "Fret Jumping". It's sort of like string skipping but with frets