Lesson Series: "0 To 60, An Introduction to Alternate Picking" - Lesson 98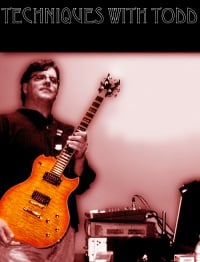 LESSON #98 - Solo Madness
Lesson Series by Todd Simpson

Let's warm up and get going!
FINGER YOGA!
Let's do our usual Finger Yoga stretches. Here is a link to the video for references.

GABE's LED ZEP COLLABORATION
In this lesson we are going to use Gabe's killer LED ZEP collab as our backing. Here is the link to the Collab.
Here is the GUITAR RIG 5 Custom Patch used in this take.
Here is a TH1 Triode Patch as well for this lesson.

Here is a link to my youtube vid with solo take. These are the licks we are going to try to work on today.
WARMING UP THE FINGERS
Let's do a bit of warmup work before we start in. It's good practice to warm up your fingers and your picking hand with a decent bit of work at the start of any practice. Building endurance each time you play really helps.

This is a very simple shape. Let's run this up and down the neck all the way back to fret number 1. First, let's do it with one pick sroke per string and then let's alternate pick. We are going to use this shape today in our licks.
The first lick is one we have discussed at length so it should be pretty easy. This is the:
LICK #1 - A MINOR INVERSION (QUICK REVIEW OF PREVIOUS MATERIAL)

You guys should know this lick back and forth by now. So let's single and double pick this.
LICK #2 - Pentatonic Fun
This lick has few notes but lots of picking. Play it palm muted.
LICK #3 - Single String Work
We have done lots of this so it should be pretty easy to pick this up. Let's play this on a few different strings to work on our reach and let's double pick it.
LICK #4 - Running Up The Neck
A Minor run up the neck. Not very fast, just moving a lot. Palm mute if possible. Let's also double pick this once we get it down.