Nemesis (eden) Nc115 Bass Amp Review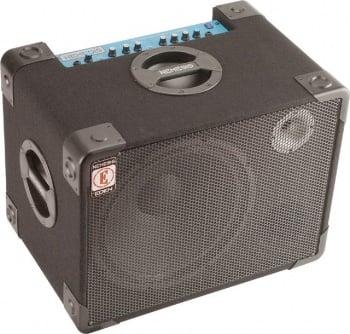 Information
Original author: Bogdan Radovic

Weapon: Amp

Make: Eden

Model: Nemesis

Price: $800


Welcome GMCs to my review of the amp I use.Its a Nemesis (by eden) 250 watt FET Bass guitar amplifier.
Features
The combo was made in 2006.It has one 1x15" speaker in it + a tweeter.It has 250 watt FET amplifier in it..Its solid state.It has a gain switch which can be pulled up for -12db (when connecting high output guitars).It has a compressor that can be turn off/on but you can't tweak it.Next we have a Enhance knob..This one is very interesting (and eden in manual suggests you that you make your tone primary with it).Its little bit hard to explain how it sounds..When you turn it to minimal you get a twangy lots of mids tone..And on the opposite side you cut the mids so you get a lot of bass and treble in a sound..I keep it that way (3 o'clock position) its especially nice for slapping that way..Next we have a semi parametric eq.You can switch it on or off depending..It consists of two knobs..One for level and other for frequency.What it does is to enable you to cut or boost a particular frequency..It can be -15 - +15 db cut or boost..Very handy for different locations where you play it (gigs), and you need to cut some unneeded frequencies that where humming or something or to add some..Next is a 3 band main tone control..It has bass , middle , treble - every one allows +-15 db boost or cut.I use bass set to 1 o'clock position and middle to 12 and treble to 1 o'clock also..Next you have the master volume control 1-10.Right to it you have the phones out which is independant of the internal speaker.When you plug your headphones internal speaker will still work.You have the switch on the back of the amp to turn it off.Master volume knob controls the volume for headphones also..Thats to "front" side..On the back of it you have the effects loop which is pre eq..Works very good for me because I use various effects..Next you have the Pre eq tuner out (normal gutar cable jack input)..You can use it to connect to the mixing console , signal is balanced.Next great thing is the recording output..It is xlr jack.And there is a control for adjusting the level of it.It is post eq..I has very nice dynamics and recordings made with it sound great (though it can't be used for studio recording its not that good I tried)..It can be used for home/demo recordings and for live shows for connecting to a PA systems.Also it has a extension speaker out..
Price
I paid 550e approximately 800$ (it was cheaper in dollars back then when I bought it ) , I'm from Serbia and music instruments are very pricey here.But it was the best buy(features/price) here for what I need.
Own musical preference
I play mostly funk/rock/pop with my band.I bought this amp for gigs 1.5 years ago.
==Ease of use== Ok this amp is very easy to use..You don't need to mess around with it to get the desired sound..For most of us the settings would be close to flat on eq and you could make them with just the enhance knob.Also the amp is very very light - 42lbs and you can easily carry it alone..Dimensions are a little weird for bass amp (its box shaped) 24.75"w x 17.25"h x 16.25"d .I bought it for gigs , I needed the very light combo and I got it..
Sound quality
Well its sounds great to me.I play the peavey cirrus bass with it.It has active pickups and very high output but you don't get any distortion from the amp if you set the gain correctly.It doesen't get distorted either on high volume..Just if you press it really hard..You get that expensive Eden sound.Many bass players use Eden amps.I like the old school sound of 1x15 speaker in it..Though I would like to add 2x10 cab to it to get the fuller and more defined sound..15" is a little to big and when I play fast with my fingers I don't get much response from the speaker as I would like it to..Ok now for the big downside of the amp..Its 250 watt delivered at 4 ohm..But this whole series of amps with 15" in it from Eden got this thing. it has a 8 ohm speaker in it...So you get something around 180 watts from it (I'm not very good at calculating this , help! ).And the extension speaker out is wired in series..SO when you connect extension cab you loose even more power (actually because of added speakers you sound 1-2-3 db louder than before)...So the trick with this amp is to do a little mod in it..You have to rewire the extension speaker out to parallel , so when you connect 8ohm speaker you get full 250 watts of power..Its supposed to be very easy - I haven't still done it myself but I'm planing to when I get the extension cab..Of course you have to wait for guarantee to expire.Besides it this amp is veeery loud ! I turn it at 1 o'clock position and its enough for gigs for 100-200 people easily..I played bigger gigs with it (you always go to DI or from amps DI out to PA systems so you don't need the power from the actual amp and also you have stage monitors , Its just used for monitoring on the stage)..I always go to PA systems in every situation (small club, or big stage)..We just do it like that here..Also amp can be very quiet for practicing at home.
Reliability
It look very well constructed and tough.I carried it along with me everywhere and it work cool..It has a cooling system on back of it with a fan which turns on when it gets heated..And it also have a thermal protection which kicks in these tough situations and turns off the internal speaker (and still outputs to recording out to PA system)..I never experienced this and this amp did 4-5 hours long gigs easily.I don't carry a backup because I completely trust in it.
Summary
If you need a very good quality bass amp that can be played on gigs/studio recording(when you mic it)/home , and you need it to be very loud this is the one to go with..NC series have different speaker combinations so I would recommend you to buy the one with 2x10 in it.It does not have the 8ohm speaker anomaly..But if you like the sound of 1x15" and don't need to push it to the max this one is great also..Best thing about besides good sound is its weight - 42 lbs !! Thats very important thing if you gonna carry it everywhere..If you haven't payed attention to these amps do it..I see on the eden site that there is now a new series of them available also..
Specifications
Power 250 Watts RMS @4Ω
Tweeter T2004
Speakers 1-ES 1560
Crossover 3Khz @12 db
Power Handling 250W RMS
Frequency Response 38hz - 18khz ±2dB
Sensitivity 100dB [email protected]
Impedance 8Ω
Dimensions 24.75"w x 17.25"h x 16.25"d
Weight 42 LBS


My mark would be 8.
Its -2 for having the 8 ohm speaker in it and extension out wired into series..