Peavey Generation Exp Review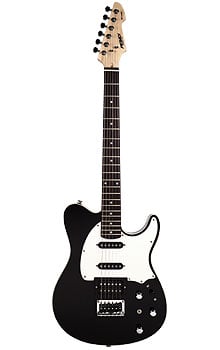 General Information
Original Author: Ivan Milenkovic
Weapon: Electric Guitar
Make: Peavey
Model: Generation Exp
Price: 197EUR or ~290$ (Official price 499$)
Intro
Hi to all,
This review is about my current guitar. Peavey Generation EXP with ACM. I have this instrument for maybe year and a half now and done over 30 gigs with it.
I bought it new for a (very low) price of 197EUR or ~290$. Mind you that the list price on peavey`s site is 499$! and this guitar is very well worth it and beyond. First here`s a list of features from a Peavey site adn a picture. I have a sunburst color version thath looks much nicer than this black.
Features
25 1/2 inch scale

Humbucker/Single/Single

High quality solid basswood body

Rosewood fretboard

Dual-expanding truss rod

Peavey ACM® circuit

Steel bridge plate with Graph Tech™ saddles

Real body binding

Stereo out (cable included)

Case not included

Weight Unpacked: 7.5

Width Unpacked: 12.725

Depth Unpacked: 2.5

Height Unpacked: 39

Weight Packed: 11

Width Packed: 16

Depth Packed: 3.5

Height Packed: 41.725

Hardware
Now the pickups are not very good, i am changing those ASAP. It has an active electronic using 9V battery. But the Piezo system is excellent! I have used it in a studio for fattening up a real acoustics and it came out awesome. Piezo in this price range is beyond great. It is a GIFT. It has a stoptail bridge, a nice neck, deacent quality maple/rosewood. Frets are not very durable but hey... this guitar is made for a short term use only - maybe 5-10 years top (that is if you abuse it like I do ). For that price range it is great.
Sound
Versatility is the main thing here. You can choose wheter you want only the sound from the pickups, from the piezo or mixed together. To tell you the truth a never used the mixing option but it can be usefull if you want to fatten up the sound. It has an stereo output, to send a signal from a piezo to a left channel and pickups to a right channel. THis way you can plug them in two sepparate amps for example if you have one acoustic amp. Interesting but not very usefull to me because i dont have an acoustic amp. THe sound of the Piezo is just great. You can use it for studio recording easily. Pickups are nice, but not enough for recording. If you wanna record something - get some decent pickups . It is well worth it. If used for gigs guitar is to say perfect.
Durability
Now i travel a lot in a bus and go on gigs in different cities within my country with my local radio station. This guitar has seen all kind of abuse, falling and bumping (i carry it in a cheap gigbag). It has never failed on me. BUT be shure to have an extra battery at hand because of the active electronic inside. Even when battery is dead you can still get some sound form pickups, but not very good quality.
To sum up
GOOD> Versatile, durable, nice looking, and VERY cheap for what is giving, excellent piezo cuircutry. BAD>Half-deacent pickups, little his noise from active, and half deacent frets but hey... the price..
If you have any questions feel free to ask