Sanctity
(Difference between revisions)
---
Current revision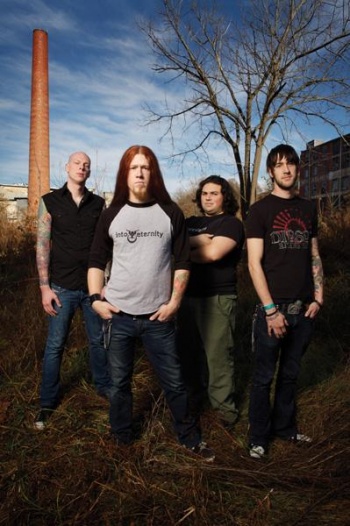 In an increasingly lethargic music scene, Sactity's Road to Bloodshed is a shot of adrenaline and holds a very strong place in the pages of metal history. A huge compliment to such a new band.
Relatively a new band to the metal scene and not much news to report on yet but the band was formed in 1998 and with some extensive line-up changes. The have only release one album so far but their sound is very reminsiscent to old school thrash and progressive metal.
The toured along side and supprted such acts as Trivium, Symphony X, Black Label Society, Machine Head and Arch Enemy. In the year of 2006 Dave Mustaine of Megadeth took a listen to them and invited them on his Gigantour and play along side with Megadeth. "He came backstage and asked us personally to do the show," drummer Jeremy London recalls. "That was such a huge honor because we all love Megadeth and Dave has been one of our idols all of our lives." The band blew away at the Gigantour with their intensity that Trivium frontman Matthew Heafy helped the band score a record deal.
Still real new to the scene but avid fans are anxiously awaiting the next release of their new album that will surely, even more grow their already huge fan base.
Members
Jared MacEachern – vocals, Rhythm Guitar
Zeff Childress – Lead Guitar
Derek Anderson – Bass
Jeremy London – drums
Album
Videos
Laws of Reason
Beneath the Machine
Beloved Killer