Telecaster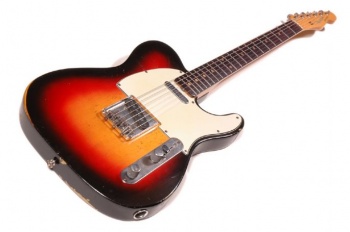 So what is a Telecaster?
For the aliens who just happened to land on planet earth, Telecasters are solid body electric guitars made by Fender.

They are one of the most famous guitars ever invented, and as such have become icons, which are still one of the best selling guitars in the world, used by musicians of varied styles.

A little bit of History
Fender is one of the big names in Guitar History, ever since Leo Fender founded his company back in 1946. Among his multiple creations one was to revolutionize the industry of guitar making, and that was the Fender Telecaster, as it was the first guitar to be mass-produced. A previous version with just one pickup was called Fender Esquire.

Telecasters, also known as "teles" are still an industry standard now a days, as nothing has really changed much in the way they are constructed and the sound they produce.

It must be mentioned that although they were soon to be called Telecasters, in the origin (1959) the name was to be "Broadcaster", but Fender had to change it because of copyright issues with the company Gretsch, that sold a drum set with the name in those days. Being the TV the latest phenomenon in the 50s, Fender decided to name his creation after it, and thus the Broadcaster was to be called Telecaster ever since.

It's the oldest solid-guitar model to have been continuously produced since creation.

Specifications
There can be many subtle changes in the specs of Telecasters, but most of them should stick to the following, which are the usual specs for an American Standard Telecaster, let's take a look:

FINGERBOARD
Rosewood or Maple 9.5" Radius (241mm)
22 Medium Jumbo Frets

BODY
Alder
Scale Length 25.5" (648 mm)

ELECTRONICS
2 American Tele® Single-Coil Pickups
3-Position Blade:
Position 1. Bridge Pickup
Position 2. Bridge and Neck Pickups
Position 3. Neck Pickup

NECK
Bolt neck
Maple, Modern "C" Shape
Width at Nut 1.685" (42.8 mm)

HARDWARE
Chrome
Bridge: American Tele with New American Standard Bent Steel Saddles and Stamped Brass Plate
Fender® Deluxe Staggered Cast/Sealed Tuning Machines


There are many other possibilities, some Telecasters have a mahogany body, some have humbuckers instead of single coils. Some have just one pickup instead of two. And some of them have a semi-hollow body, such as the Thinline series. There are even telecaster models that feature 3 pick-ups and a whammy bar, such as the J5 Triple.

There were models that featured a very special mechanism called B-bender, that allowed to increase the pitch on the B string, making the Tele sound very much like an steel guitar.

Let's focus on the main characteristics of the standard telecaster, and some comments will be added as needed when necessary about the rest of varieties.

Sound
Due to it's distinctive twangy sound this guitar is excellent for country music, though famous artists around the world use it for varied styles, specially rock and pop.

With it's single coil pickups it's tone is bright, with highs that shine specially through the bridge pickup, which is usually wound hotter.

Being the first solid-body guitar to be mass-produced it quickly became popular among musicians that were tired of the muddy tone of hollow body electrics. The solid body of the Tele allowed to maintain the natural tone of the strings delivering crisp, cutting sounds. This also helped resemble the sound of steel guitars, and that's why it was, and still is, a favourite among country musicians.

The twangy sound that Telecasters provide when playing a chord sounds full and rich, like whistles and bells, makes it a great rhythm guitar too.

How are Telecasters built?
Some people define this guitar as a "baseball bat, a few bolts and a plank of wood", which pretty much resumes what this guitar is all about: simplicity. And beautiful simplicity at that!

It's simple yet effective design is one of this guitar main charactericstics. It was engineered to be easily repaired, constructed and mass-produced. And Fender people really succeeded at that, no doubt about it.

Neck
Telecasters's legendary headstock is smaller than that of the later-to-arrive Stratocaster models:

The bolted neck was a great solution to save time when manufacturing large numbers of guitars, and done properly was (and is) a wonderful method to obtain a solid union between neck and body, that along with the truss rod makes the instrument keep in tune and be easily set-up when needed.

Fretboards can vary between 21 frets in most Thinline/earlier models to the standard 22 frets now a days.

Bolted necks are also much easier to change/repair.

Body
Telecasters have two distinctive parts, one of them is the contoured body, with a waist and just one cut-away:

The body, usually made of one solid piece of alder with flat surfaces (or mahogany) is simple in it's construction: built like a block, it's like a tank. Telecasters can sure stay together in the middle of a battle!. As for controls they stay simple too: one master volume and one tone knob is all they need to rock all night long.

The body can use a variety of finishes, from transparent lacquers to poly finishes in different colors or even Nitro finishes in high-end custom models.

The wires
The pickups are 2 single pickups by default, though some models may use humbuckers too.

Bridge pickup is sometimes wound twice as much as the neck, to provide a distinctive feel between both and assure those crispy trebles.

Telecasters were the first guitars to include a removable control plate to access the wiring, making it easier to repair.

The Thinline family specs
There is a very special family among the Teles, and that's the Thinline Tele family. These guitars where quite different as they were not solid body, but semi-hollow.

Their sound is somewhat muddier yet classy, and their look is unique with their f-hole and enlarged pickguard. Many of them used humbuckers as well as single coils.

Different Models
Before taking a look at some different models, it's important to state that Fender Telecasters are made either in U.S.A. or Mexico. They were also manufactured in Japan for some time.

The difference in price is big, being the American models the most sought after.

As has been mentioned, there are many flavours for this classic, so let's review some of the most relevant:

American Vintage '52
One of the most popular models, an icon, ash body and single-ply black pickguard, this guitar just rocks:

American standard
Latest model of 2008, features some new additions to the classic Tele style:

New bridge with improved bent-steel saddles mounted to a stamped-brass bridge plate for increased resonance and sustain.
New neck treatment—tinted for a richer presentation, with the maple or rosewood fingerboard buffed to a high gloss.
The back of the neck still has that silky, comfortable satin finish.
Thinner finish undercoat that lets the body breathe and improves resonance.

American deluxe
Alder body, high-end Telecaster, with Samarium Cobalt Noiseless pickups ans S-1 switching to obtain a huge variety of tones combining pickups.

J5 Triple
3 Humbuckers, Whammy bar and Stratocaster style head... how is that for a change?

60s Telecaster Custom Bigsby
A Telecaster with the specs of the 60s plus a Bigsby F Vibrato Tailpiece. Single coils and 21 frets, of course!

Telecaster Thinline 69
A semi-hollow beauty, the 69 Thinline is a lightweight Tele, with a reshaped pickguard and an awesome tone.

Famous Telecaster Players
Here is a small list of famous guitarists who use, or have used at some point, a Fender Telecaster:
Bruce Springsteen
Andy Summers (The Police)
George Harrison (The Beatles)
Jimmy Page (Led Zeppelin)
Joe Strummer (The Clash)
James Root (SlipKnot)
Albert Lee
Keith Richards (Rolling Stones)
Buck Owens
James Burton
Eric Clapton
Albert Collins
John 5(Marilyn Manson,Rob Zombie)
Bloc Party
Originally by Fran