Warrel Dane - Praises To The War Machine Review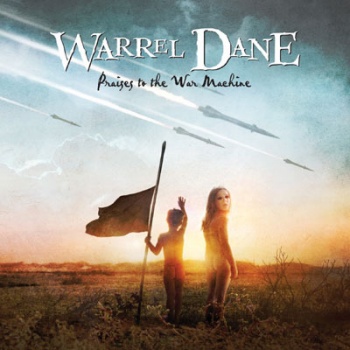 General Information
Original Author: The Uncreator

Artist: Warrel Dane
Album: Praises To The War Machine
Genre: Heavy Metal
Tracklist
01. When We Pray
02. Messenger
03. Obey
04. Lucretia, My Reflection (Sisters Of Mercy Cover)
05. Let You Down
06. August
07. Your Chosen Misery
08. The Day The Rats Went To War
09. Brother
10. Patterns (Simon And Garfunkle Cover)
11. This Old Man
12. Equilibrium

Sound
10
This is perhaps one of the most beautiful albums I've heard in a long while now, The guitars are great heavy groove based riffage with some very tasteful soloing, guest solos by Nevermore lead guitarist Jeff Loomis and co-producer James Murphy add some nice spice to the album. The drums are great, and the vocals are without a doubt the most emotional performance Warrel Dane has done, and the lyrics are some of the best writing I've ever read or heard, Beyond poetic.
Guitars
9
Great tone, great melody, great solos, they are just solid through and through, and the orchestra like feeling it gives off is amazing. It goes with the vocals so well, It just brings so much voice and strength to this record. The riffs on "When We Pray", "Equilibrium", "When The Rats Went To War", and pretty much any song, are a contagious combination of groove, melody and brutality, Never over doing in any category, perfect balance from each. The solos strike you like an archers arrow. There just very well done, great combination of speed, melody and superb phrasing, and remind me of classic metal acts like Maiden, Priest, King Diamond/ Mercyful Fate and such, as opposed the more modern sound of Nevermore your used to hearing his voice over/ with.
Bass
7
I must take back what I said, I put on some headphones, And all of a sudden the bass was extremely clear, I guess my computer speakers didnt quite accent them well, Anyway. The tone is actually very good, and it has a stronger presence than most any average album, This just gives the sound a 10 now
Drums
8
Easily one of the best aspects of the album, It just fits so well, Not just backing the song up, Its a whole other piece to the painting, the shield on the Dying Gaul. Great double bass, awesome rhythm work, and an awesome tone for the overall drum sound. Odd as it may sound, the cymbal work was really cool, It was mixed perfectly in with the album.
Vocals
10
I'm already a massively devout fan of Warrel Dane, and this only strengthens my resolve. This is, to me, His most emotional, and from the heart performance I have ever heard. Songs like 'Brother', which Warrel Dane says is his most personal song he was written, along with 'This Old Man', 'When We Pray', and just ANY SONG, showcase a phenomenal voice, with perfect technique, phrasing, and vibrato, His voice is so beautiful, I don't think most singers have this much heart put into there entire careers. Perfect, without flaw.
Lyrics
10
While Warrel Dane is known for his strong political standpoints he expresses in Nevermore, He goes to a much more personal and deep place for this album, Although he still touches on topics like current world conditions. This Old Man, is about well, an old man, Dane knew as a child who told him stories of his life and past events, and how his children didnt visit him much anymore after they grew up, and he how he kinda saw somewhat of a son, or something to that effect in Warrel Dane, And how Dane learned so much from him, even after he died. then there is the song "Brother", which almost brought me to tears, Is about how he has never been close to his brother no matter how hard he tried. The lyrics are simply beautiful.

From "Let You Down"
In between the quiet space
Of cold defense and misplace selfish rage
I blame defiantly
Not like the others that came before
We are the ones who can change

I love to let you down
I love to wear this foolish crown
Of suffering and empty dignity
For your deity has abandoned me
Such is vanity

The withered parasites are slandering
The walls of truth, The wise can see them fall
To attain enlightenment
The change is whispered on the winds of unjust war


From "Brother"
Brother you were never there for me
When the children needed peace you disgraced both families

Brother you were never there for me
When my father died I thought you would take my hand
You said I was just too young

Sister I can tell you all the love I have for you
Our mother sleeps in silent peace, Because your love was pure

But Brother, You were never there for me
When my father died I thought you would take my hand
You said I was just too young

If I could erase one moment of pain
I'd throw away everything, Even fame
If I could play God do you know what I would do?
I'd swim through your blood and kill the cancer in you


From "This Old Man"
I remember this old man and the wisdom that he shared with me
Upon his knee I'd listen
I remember words he spoke and the look behind his quiet eyes
In silent bliss life gives little lessons

He spun tales of worlds unseen
How he sacrificed his youthful dreams
He lived his life again just for me
He raised children so strong
They flew into city lights, Such busy lives
He'd wish they visit home

I will remember the words of this man until my dying day

It took his death to bring them home
To the empty rooms where they had grown
Where he died alone
And they buried him next to his bride
I held her hand as my mother cried
Just a child of five, Now I understand

Now I understand, The words of this old man

Overall Impression
10 Perfect