Seasick Steve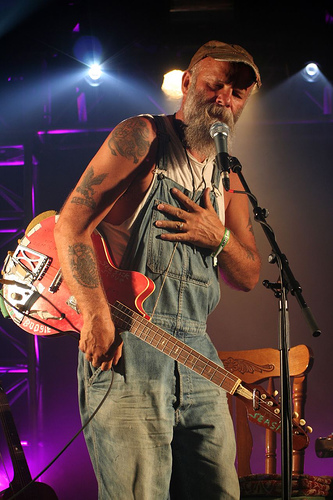 Intro
Seasick Steve, original name Steven Gene Wold, is an American blues artist. He plays guitar and he sings.
History
Steve was born in the year of 1941, in the USA. As a 14-year old boy he decided to live on his own, as a hobo. During his life he has always been active in the blues world. Before he became 66 he didn't become famous. After a gig in the BBC show, Hootenanny, he broke trough as a professional musician.



Style
He plays the good old 'raw' blues. He often uses a blues slide. He's always very close with the audience.



Gear
Seasick Steve is well known for his 'weird' instruments.

For example:
-The Mississipi Drum Machine, a wooden box as percussion.
-Three-String Trance Wonder, his own-made 3-string guitar.
-Diddley-Bo, a 1-string guitar played with a screwdriver or a bottleneck.