Arch Enemy
Arch Enemy
Arch Enemy is a Metal band from Sweden that was formed by brothers Michael and Christopher Amott and bassist/singer John Liiva in 1996. With both Michael Amott and John Liiva coming from successfull Death Metal bands they attempted to go a more melodic way with Arch Enemy. The most remarkable thing about Arch Enemy is the female vocalist Angela Gossow because female gutural growling singers are rarely seen.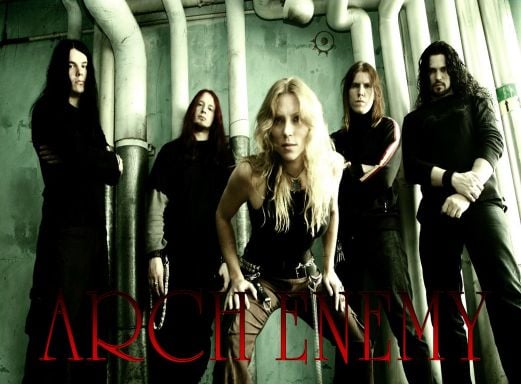 1996-2000: The John Liiva Years
After the disband of his former Death/Grind band Carcass guitarist Michael Amott wanted to form his own band to play his prefered style of Death Metal: Melodic Death Metal. He also always wanted to play in the same band with his younger brother Christopher Amott and therefore he took him in as second guitarist. The vocal and bass spot was filled by an old friend of Michael from his days with his first band Carnage: John Liiva. Session drumer Daniel Erlandsson completed the first lineup.

The debut record that was recorded in the same year was called Black Earth and it became a remarkable success in Sweden and Japan. The record is known to be Arch Enemy's heaviest record but the path Michael had chosen showed what Arch Enemy would sound like in the future. The band was signed by Century Media and hired bassist Martin Bengtsson to let John be able to focus on his vocals. In 1998 the second record Stigmata was now released worldwide and was sold a decent amount of times, granting the band the attention of even more listeners.

The band's sound finally switched to a more melodic approach with 1999s Burning Bridges which had even instrumental tracks on it. The record was followed by a live record called Burning Japan Live 1999 which was originally intended for Japanese release only because the band became such a strong support from Japanese days from day one. In 2000 vocalist John Liiva was kicked out of the band because his live performances were not energetic enough for bandleader Michael Amott. Suprisingly the vocal spot was filled by female German journalist and amateur Death Metal vocalist Angela Gossow who handed a Demo of her singing to Michael after she interviewed him for a metal magazine.
2001-Today: The Angela Gossow Years
Many fans were upset to see a girl as the singer of their favourite band especially because of the love relationship between Angela and Michael the fans feared that she was chosen just because of that fact. But she was taken into the band before the actual relationship because of her vocal skills: Angela is capable of deep and shallow growls despite the fact that she is a woman; actually she can growls even lower than some of her male equivalents. With her flawless performance she was accepted by most of the old fans. The first record with Angela Wages Of Sin from 2001 became Arch Enemys breakthrough record to a bigger mass of listeners and the band played the first Headlining tours aswell as the Headliner spot at the Japanese Beast Feast 2002. The record had a wider range of vocals (including Angela's signature high banshee screams) and showed the talent of the Amott brothers on the guitar better than any other record. The band finally found the perfect gap between Heaviness and Melody.

Anthems Of Rebellion, the second record with Angela as vocalist was released in 2003. It can almost be considered as a concept record because all the vocals are about freedom and resistance against tyranny (a theme that is very present in all Arch Enemy records). After 2005's record Doomsday Machine Christopher Amott decided to quit the band to finish his studys and because he was tired of touring the globe. Doomsday Machine had many old school Heavy Metal influences. For the upcoming tours Christopher was replaced by Gus G. of Firewind and after him by Frederic Akesson , who is now Opeth's new guitarist. For 2007's Rise of the Tyrant Christopher rejoined the band after finishing University. The record became Arch Enemy's commercially most successfull record so far.
Most Important Record: Wages Of Sin
With this record Arch Enemy reached new hights in popularity around the world. Wages Of Sin is the first record that features Arch Enemy's new female vocalist Angela Gossow who helped to put more energy and innovation into the band. A female fronter in an extreme Metal band helped the band to stand out of the others but Angela is not just Eye-candy but also a highly professional gutural growling singer. The record has everything that calssifies a Melodic Death Metal record: Punding fast Death Metal riffs and beautiful guitar melodies, often harmonized with two guitars, a grumbling distorted bass, fast and technical drumming and death metal vocals by a girl that are hard to tell if they are even by a girl. The melodic aspect makes those Death metal songs extremely catchy, the heavy parts are grounded on precise doublebass drum attacks and the top notch guitarist duo Amott & Amott deliver incredible solos. Angela's vocal growling range from deep grunts to high pitched screams gives the record a unique touch that helped this great record to achieve the international success this band deserves.

1. Enemy within
2. Burning angel
3. Heart of darkness
4. Ravenous
5. Savage Messiah
6. Dead bury their dead
7. Web of lies
8. The first deadly sin
9. Behind the smile
10. Snow bound
11. Shadows and dust
12. Lament of a mortal soul
Musical Style
Arch Enemy's music is almost entirely written by Michael Amott because he formed the band to express his point of view on Death Metal. The first record Black Earth was written by him alone, on the upcoming releases he took advice from other band members while composing or he worked with his brother Christopher, who is the only other person in to write whole songs within Arch Enemy until Angela Gossow joined the band. Since then Angela takes part of writing all the vocals. Arch Enemy play so called Melodic Death Metal, a subgenre of classical Death metal. The songs still have Heavy, detuned Riffs and doublebass drums aswell as the typical growling vocals but the songs are based on melodic lines and are often interrupted by twin guitar melodies. The Amott brothers are faboulus guitar players and match up perfectly to create beutiful melodies that are contrary to the fast and heavy death metal riffing. The songs are always topped of by technical solos in which the brothers switch parts between lead and rythm guitars. The vocals of Angela Gossow are as extreme and deep as her predecessor John Liiva's vocals. Although she has a fairly high speaking voice she can growl at the same pitch as a man so that she can not be spoted as a woman just by listening to her singing.
Angela Gossow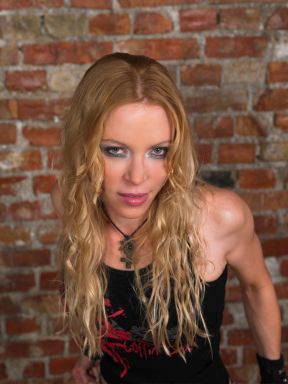 Angela Natalie Gossow was born on the fifth of November 1974 in Cologne, Germany. Being a hardcore punk and later a metal fan during her teenage years she listened to Thrash and Death Metal singers and was inspired to sing in a metal band aswell. Soon she discovered her vocal talents in gutural growling rather than in clean vocals. Angela joined the deathmetal bands Asmodina and Mistress and released Demotapes with both bands. When she had the opportunity to interview Michael Amott from Arch Enemy in 2000 for a German Webzine she handed him a record of a live gig with her performance because Michael stated that he is looking for a new singer for Arch Enemy. Angela did not expect any response because the record she handed over was not a professional but a low quality live recording but she was called to rehearse with the band and was chosen befor all other contestants because of her performance. She is still Arch Enemy's vocalist and is writing the vocals aswell as songs. Angela also has a project that encourages young girls to perform in bands because she knows that she as a professional female Death Metal vocalist inspires lots of young girls to do the same.
Michael and Christian Ammott
Michael Amot was born on July 28, 1970 in England, Britain but he was raised in Halmsted, Sweden. He is one of Sweden's most famous guitarist and played in the bands Carnage, Carcass, Arch Enemy and Spiritual Beggars. He started to play guitar as a teenager inspired by Dave Mustaine and Michael Schenker. His playing is devided into fast and heavy Deathmetal riffs on one side and melodic lead guitar lines with a wide vibrato on the other side. Michael co-formed the death metal band Carnage in 1988 with singer Johan Liiva and therefore was one of the pioneers of the Death Metal genre. He also joined Carcass in 1990 which was a pioneer band in Melodic Death Metal. His side project (the Stoner band Spiritual Beggars) did not satisfy him so he formed his own band Arch Enemy after Carcass had broken up in 1995. Since then Michael is successfull with Arch Enemy and has his own ESP fling V signature series guitar called Ninja and a Randall signature V2 top.

Christopher Amott was born in November 23, 1977 in Halmstad, Sweden. He is the younger brother of legendary swedish guitarist Michael Amott and also a incredibly skilled guitarist. He started to play the guitar at the age of 14; his idols were Yngwie Malmsteen, Michael Schenker and ofcourse his older brother who taught him how to play guitar. He attended musical college at the age of 18 but he interuoted his studies after one year to play in Arch Enemy with his brother. He developed a speedy picking and a fast vibrato while playing with this band. He started his own side project called Armageddon with Christopher also taking vocal dutys. The band released three records in Japan which sound like Melodic Death Metal and very heavy Power Metal. Christopher toured with Arch Enemy for almost ten years and during the tour breaks he was on stage with Armageddon, it is no wonder that he left Arch Enemy to take a break form music buisness and finish his studies. He left the band in 2005 only to rejoin the band in 2007 after he finished his studies. Christopher has a signature model by Japanese guitar manufactor Caparison (Dellinger Model) and plays through peavey or randall amps.
Discography
Studio Records
   * 1996: Black Earth
   * 1998: Stigmata
   * 1999: Burning Bridges
   * 2001: Wages of Sin
   * 2003: Anthems of Rebellion
   * 2005: Doomsday Machine
   * 2007: Rise of the Tyrant


EPs
   * 2002: Burning Angel (EP)
   * 2004: Dead Eyes See No Future (EP)
   * 2007: Revolution Begins (EP)


Liverecords and DVDs
   * 1999: Burning Japan Live
   * 2006: Live Apocalypse (Live DVD)


--ZakkWylde 19:42, 26 June 2008 (CEST)