B. C. Rich Guitars
BC Rich Guitars
History
The history of one of the guitar worlds most original designs starts with one man Bernardo Chavez Rico. He started the company in 1972 as a repair shop for classical and spanish guitars. In the first 2 years of company operation Rico began making solid body electrics, he made 350 B model guitars which were acoustics. Rico then used his friends name and called the company B.C Rich Guitars. He began building solid body guitars custom made using many of the same techniques as his acoustics keeping in the traditional scalloped frets and icredible master grade woods. He started making solid bodys based after Les Pauls and Stratocasters. Then after his build team and him showed a common interest in Motorcycles, exotic cars, custom clothing and magnificant paintschemes did some of the exotic designs of todays B.C Rich start to be created. Thus began the Bich, Eagle, Mocking Bird, Seagull, Warlock and IronBird lines of guitars.
It was around this time that B.C Rich really began making an imprint in metal. The exotic and threatening designs of the guitars really suited the imagine many Metal musicians were looking for. There popularity was growing and Rico descided there was a need for cheaper production to allow the guitars to be introduced to a wider audience. The guitar manufacturing was moved to Japan which manufactured the NJ series. Only a few hundred of these got to America. During this time in the mid 80's B.C Rich began having major problems. The companies manufacturing issues were moved from Japan and to a company called Class Axe located in New Jersey (USA) These guitars were of poor quality. These guitars were made so badly it almost instantly crushed B.C Rich's reputation. When Rico became aware of this he immediatly snatched back production responsibility. This was such a major change from the original high quality instruments that people began circulating rumours that B.C Rich was not actually responsibile for this guitars and that Class Axe was actually making knock off B.C. Rich's and selling for less. Once this rumour started B.C Rich disappeared off the map in the mid 90 to late 90's until these issues were sorted out. They reappeared to re-state their name of making high quality guitars. Now days B.C. Rich continues to manufacture high quality guitars.
Genre
B.C. Rich is really known as metal and hard rock. The exotic body shapes are well known to be very aggressive and un-conventional.. perfect for the bad-a** in all of us. These guitars have short necks and fest fretboards again perfect for low string guages and heavey riffing. They look perfect playing metal.. jazz... not so much
Gear
example of a B.C.Rich

B.C Rich is responsible for many well known guitar and bass lines.
Assassin/ASM
Avenge and WMD SOB or Son Of Beast (Beast shape scaled down 10%)
Beast (Designed by Brian Hoffman of Deicide.)
Bich (Designed by Neal Moser.)
Blaster (Similar to a Telecaster.)
Condor (Eagle Archtop.)
Conte
Dagger (Designed by Rock Clouser)
Big Dagger (Dagger with a Bigsby vibrato.)
Death'r
Draco
Eagle
Eagle Archtop (An upscale Eagle with a one inch thick carved flamed maple top and mahogany body.)
Exclusive
Explorer
Fat Bob (Body in the shape of a Harley gas tank.)
Firebird
Gunslinger
Hydra
Ignitor
Innovator
Ironbird (Early in his solo career, Michael Angelo Batio used this, as well as a double-neck version of it.)
Jazzbox (Hollow-body.)
Jr. V
KKV
KKW
MAG
Marion
Meegs
Mockingbird
Mockingbird II
Nighthawk
Outlaw
Punisher (Most famously used by Gene Simmons of Kiss.)
Seagull
Seagull II (Also known as Seagull Jr.)
Stealth (Most famously used by Rick Derringer, who also designed it, and Chuck Schuldiner of Death.)
ST
ST III
Thunderbird
Thunderbolt
TS-100 (Similar to a Telecaster.)
TS-200 (Similar to a Telecaster.)
Virgin (Designed by Neal Moser)
Virgo (designed by Rock Clouser)
Warpig (Similar to a Gibson SG.)
Warlock
Warlock II
Warbeast (Combination of the Beast and Warlock.)
Wave
Widow (Designed by Blackie Lawless of the metal band W.A.S.P..)
Wrath
Zombie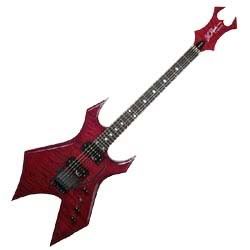 The Warlock
Artists
Artists that use or have used B.C. Rich guitars and bass guitars:
Mikael Åkerfeldt of Opeth
Mike Clark from Suicidal Tendencies
David Ellefson from Megadeth
Robb Flynn from Machine Head
Lita Ford formerly The Runaways
Kerry King from Slayer
Blackie Lawless from W.A.S.P
Mick Mars from Mötley Crüe
Dave Mustaine from Megadeth
Joe Perry from Aerosmith
Mille Petrozza from Kreator
Randy Piper from Animal and formerly W.A.S.P
Chris Poland from Megadeth
Jon Schaffer from Iced Earth
Chuck Schuldiner from Death
Slash of Velvet Revolver and formerly of Guns N' Roses
Nikki Sixx from Mötley Crüe
Mick Thomson from Slipknot
C.C. DeVille from Poison
Victor Hurtado from eMexico

GMC Members and Instructors Instructors Bold Yours
Smikey2006 plays a Warlock ---
Links