Children Of Bodom
Children Of Bodom
Children Of Bodom are a Metal Band from Espoo, Finland, that was formed in 1993 by guitarist Alexi "Wildchild" Laiho and drummer Jaska Raatikainen. The band plays Melodic Death Metal with influences of Power Metal, Punk, Hardcore and Thrash Metal. The band's name is taken from a unsolved murder scene at a finnish lake called Bodom.
1993-1997: The Early Years
The childhood friends Alexi Laiho and Jaska Raatikainen started their own band IneartheD in 1993 in order to cover their favourite Death Metal and hardcore songs. Together with Bassist Samuli Miettinen the band recorded the first EP with selfwritten music called Implosion of Heaven. Samuli, who was also the bands' vocalist, had to move to the United States in 1995 and Alexi took part on the vocals. He also recruited new members from his school like bassist Henkka Seppälä or guitarist Alexander Kuoppala. In this lineup the second Demo was recorded and called Ubiquitous Absence of Remission. The band got to play local gigs but was not recognized by the record companies, not even after the third Demo Shining which featured keyboards for the first time arround. Together with the new pianist Janne Wirman the band decided to record their debut LP on their own without a record company backing them up.
1997-1998: Something Wild
The record Something Wild was recorded at the bands' own costs and was released by a small label with only a few hundred copies, still under the name Inearthed. The recor was heard by someone from Spinefarm records who offered the band a europe-wide deal. The band was forced to change their name due to contract issues with their former label, so they named themselves Children Of Bodom after a series of unsolved murdercases from a local lake called Bodom. These murders are still inspiring the band and on every album there is at least one song with the word Bodom in it.
The album release in 1997 allowed the band to tour Finland for the first time as opening act for Dimmu Borgir and the first european Tour with Hypocrisy in 1998. The record features all the Bodom trademarks of later records but it also has a lot of Punk influences on one side and technical soloing on the other. The success got the band signed to Nuclear Blast Records and they were also able to do a (low budget) video for Deadnight Warrior.
1. Deadnight Warrior
2. In The Shadows
3. Red Light In My Eyes,Pt. 1
4. Red Light In My Eyes,Pt. 2
5. Lake Bodom
6. The Nail
7. Touch Like Angel Of Death
1998-2000: Hatebreeder
In 1998 the band recorded their second LP called Hatebreeder and released the Track Downfall as a single. The quality of the record and single was astonishing for a newcomer band and they entered the charts of several European countries. COB were able to do their first Japan tour with In Flames in 1999 on which they also recorded the Live record Tokio Warhearts. Hatebreeder features Heavy riffs with keyboard melodies and growling vocals and the Guitar/Keyboard Solo duel between Janne Wirman and Alexi Laiho was invented on this record.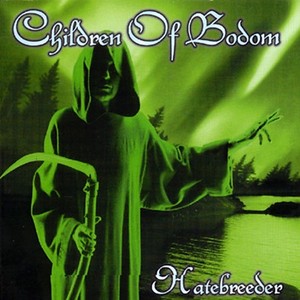 1. Warheart
2. Silent night, bodom night
3. Hatebreeder
4. Bed of razors
5. Cowards dead end
6. Black widow
7. Wrath within
8. Children of Bodom
9. Downfall
2000-2002: Follow The Reaper
The band finally made enough money to afford a high class production studio for their third record Follow The Reaper in 2000. The band toured while recording this record so it was delayed and released in 2001. The record's lyrics are based on the bands' mascot the grim reaper, who also appears with a scythe on every Children of Bodom Album Cover.
1. Follow the reaper
2. Bodom after midnight
3. Children of decadence
4. Everytime I die
5. Mask of sanity
6. Tast of my scythe
7. Hate me!
8. Northern comfort
9. Kissing the shadows
2002-2004: Hate Crew Deathroll
In 2002 the band began writing their fourth record Hate Crew Deathroll which was released in early 2003. Their critics say that it is Children Of Bodoms so far best album while old school fans dislike this record because of a slight style change. Lead guitar and keyboard took a small step into the background and the songs were stronger focused on more rockish and thrash metal riffs. The name of the album was taken from the band's nickname Hate Crew. Hate Crew Deathroll entered the finish charts on number one and became a gold record in several other european states, allowing the band to do their first World Tour. During that tour guitarist Alexander Kuoppala quit the band and he was replaced by legendary finish guitaris Roope Latvala.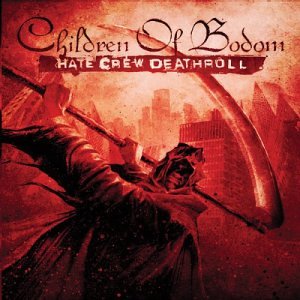 1. Needled 24/7
2. Sixpounder
3. Chokehold (Cocked'n'Loaded)
4. Bodom Beach Terror
5. Angels Don't Kill
6. Triple Corpse Hammerblow
7. You're Better Off Dead
8. Lil' Bloodred Ridin' Hood
9. Hate Crew Deathroll
2004-2008: Are You Dead Yet?
Are You Dead Yet is the bands most controverse record because it involved the first big style change. The guitars were tuned down from D standard to drop C and the riffs became extremely simple because the band was influenced by hardcore punk. The record was released in 2005 after the preview EP Trashed, Lost and Strungout from 2004. Are you dead yet did not satisfy the old fans but it still became the band's commercially most successfull record. The band toured for the upcoming years and took a few months breack between the tours. In 2006 they recorded a live DVD in their capital called Chaos Ridden Years - Stockholm Knockout Live.
1. Living Dead Beat
2. Are You Dead Yet
3. If You Want Peace... Prepare For War
4. Punch Me I Bleed
5. In Your Face
6. Next In Line
7. Bastards Of Bodom
8. Trashed, Lost And Strungout
9. We're Not Gonna Fall
2008: Blooddrunk
After four years the band's latest record Blooddrunk was released in 2008. Blooddrunk is the bands fastest record with riffs taken from the Thrash Metal genre and the more frequent use of doublebass drums. For the first time arround Alexi's vocals involved personal experiences like the title track Blooddrunk in which Laiho deals with his self-injury during his teenage years. The band is currently Touring and also headlining 2008's Wacken Festival.
1. Hellhounds on My Trail
2. Blooddrunk
3. Lobodomy
4. One Day You Will Cry
5. Smile Pretty for the Devil
6. Tie My Rope
7. Done with Everything, Die for Nothing
8. Banned from Heaven
9. Roadkill Morning
10. Ghostriders In The Sky
Bodom Covers
Unlike many other bands Children Of Bodom are not afraid to do cover tracks of aother famous artists. Most of them are serious transcriptions of song into their own style bu sometimes the covers are just a joke like the infamous Oops I did it again by Britney Spears cover.
Here's a list of Children of Bodom cover songs:
   * Mass Hypnosis - Sepultura cover
   * No Commands - Stone cover
   * Don't Stop At The Top - Scorpions cover
   * Shot In The Dark - Ozzy Osbourne cover
   * Hellion - W.A.S.P. cover
   * Aces High - Iron Maiden cover
   * Silent Scream - Slayer cover
   * Latomeri - Klamydia cover
   * Bed of Nails - Alice Cooper cover
   * She Is Beautiful - Andrew W.K. cover
   * Oops!... I Did It Again - Britney Spears cover 
   * Talk Dirty To Me - Poison cover
   * Somebody Put Something In My Drink - Ramones cover
   * Rebel Yell - Billy Idol cover
   * Ghostriders in the Sky - Stan Jones cover
   * Lookin' Out My Back Door - Creedence Clearwater Revival cover
   * Just Dropped In - Kenny Rogers cover
   * War Inside My Head - Suicidal Tendencies cover

Musical Style
Children of Bodom are difficult to characterize by just one style, The band calls their own music simply Metal. They are known for heavy riffs, fast lead guitar runs, short melodies and growling vocals. They use a keyboard like some Power Metal bands but as a second lead instrument and not for the background. The music switches betwen melody parts and heavy rythm parts in a rapid manner which is a trademark of COB. Drums and bass are typical for Heavy Metal with fast drum kicks and a pounding bass. The vocals lead to think of a Death metal band because frontman Laiho screams and growls with a voice similiar to Chuck Shuldiner of Death. The band used Punk and Neoclassical trademarks on Something Wild, Hardcore elemnts on Are You Dead Yet? and Thrash Riffs on Blooddrunk. In general they can be counted as Melodic Death Metal.
Discography
Demos as Inearthed
   * 1994: Implosion of Heaven
   * 1995: Ubiquitos Absence of Remission
   * 1996: Shining

Studio Records
   * 1997: Something Wild
   * 1999: Hatebreeder
   * 2000: Follow the Reaper
   * 2003: Hate Crew Deathroll
   * 2005: Are You Dead Yet?
   * 2008: Blooddrunk

Liverecords & Compilations
   * 1999: Tokyo Warhearts (Live)
   * 2003: Bestbreeder (Best Of, Japan only)
   * 2006: Chaos Ridden Years - Stockholm Knockout (Live)

Singles & EPs
   * 1997: The Carpenter
   * 1998: Children of Bodom
   * 1999: Downfall
   * 2000: Hate Me!
   * 2002: You're Better Off Dead
   * 2004: Trashed, Lost & Strungout
   * 2005: In Your Face
   * 2008: Blooddrunk

DVDs
   * 2004: Trashed, Lost & Strungout
   * 2005: In Your Face
   * 2006: Chaos Ridden Years - Stockholm Knockout Live

--ZakkWylde 03:08, 24 June 2008 (CEST)