Crafter Convoy Fm Review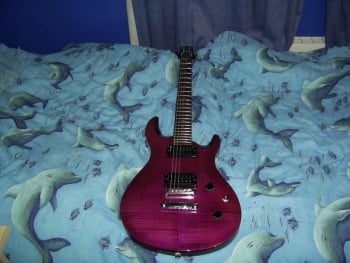 General Information
Original Author: Vintageplaya666
Weapon: Electric Guitar
Make: Crafter
Model: Convoy Fm
Price: £280
Features
•Construction : Bolt-on Neck
•Body : Basewood Quilted Maple Grain
•Neck : Mahogany
•Fingerboard : Rosewood
•Frets : 22 Jumbo
•Machine heads : Diecast Halfmoon Chrome
•Pickups : Bridge and neck humbuckers
•Controls : 1 x Volume, 1 x Tone and a 3-Way Switch
•Bridge : Nashville-O-Matic
•Scale : 25 Inches

The Convoy FM also comes in a select number of different colours which are (Purple, Amber, Blue, Red or Sunburst.
Sound
Well what can I say? I've owned this guitar for around a year and a half, and It's the only one of mine I ever play. I also own a Vintage V8, and this crafter blows my Vintage out of the water sound wise. When I first plugged this baby into my amp, I immediatley wanted to try it on distortion being a true metal fan. I started knocking out some Metallica and it was immense. The tone and the sound of the instrument is fantastic. To me, from the settings I had on my amp it really captured the Metallica tone.
Now, the sound is also immense for any other styles. Jazz, Blues, Classical, Pop, Bluegrass, Death Metal etc. When the amp is on clean it produces some great sounds, especially when you turn to the neck pick up, and reduce the tone knob you can create some really great blues tones.
I honestly can't pinpoint any bad qualities with the sound this guitar gives. Sound wise overall, it fits any style of music. And I would give its sound 10/10.
Price
This guitar only cost me £280 from my local guitar shop. And I can safely say that is a bargain! It really sounds and feels like you paid for a £1,000 guitar!
Playability
The playabilty of this guitar is amazing, when I bought it from the shop I have never changed the setup of the guitar. The strings were set to quite low, I'm not sure what style of strings it first came with but they we're a set of 9s, and I changed my strings to PRS.
The guitar is really smooth, when you place you're thumb on the neck you can easily glide up and down smoothly making shredding and legato a whole lote easier. This guitar raised the bar in my technical ability on the guitar.
Overall Impression
Choosing this guitar was the best thing I ever did. Immense sound, Great Playability and very Reliable. It give's you great sound for whatever style of music you play and is a very versatile guitar.
Now, you might think it's a bit over the top, but I would give this Crafter a 10/10 rating. It has everything I love about a guitar. Smooth playability, Great Sound and Tone.
Everyone that has played this guitar, have been amazed at how easy and smooth it is to play and they have mainly complimented the sound.
I mean come on, even Gustavo Guerra plays Crafters!