Dream Theater - Systematic Chaos Review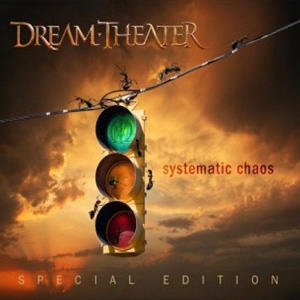 General Information
Original Author: The Uncreator
Artist: Dream Theater
Album: Systematic Chaos
Genre: Progressive Metal
Tracklist: 01. In The Presence Of Enemies - Part 1
02. Forsaken
03. Constant Motion
04. The Dark Enternal Night
05. Repentance
06. Prophets Of War
07. The Ministry Of Lost Souls
08. In The Presence Of Enemies - Part 2

Sound: 9/10
Dream Theater once again, in there latest installment, Bring a progressive powerhouse to the table. From the crushing opening riff of "The Dark Eternal Night", The octave wonders of "Prophets Of War", to the soft and mellow melodies of "Repentance", this is Dream Theater at the top of there game.
Guitars:9/10
John Petrucci, I think we all know how capable this man is. Amazing tone, unsurpassed technical ability, super fast chops, AND, Incredibly beautiful phrasing showcasing perfection over vibrato and voicing melodies. The riffs throughout the album will not dissapoint, from the opening note, to the ending note, this album contains amazing feats that display the classic progressive DT riffs we all know and love. I'll go as far as saying there isnt a flaw in his playing on this record, Its done beautifully. And if you think the guitars are all shred, check out the first solo of "In The Presence Of Enemies", and the solo to "Repentance", and you will know just how diverse Petrucci really is.
Bass: 8/10
John Myung is a bass guitar beast. While not his best album bass wise ( I think Octavarium is ), He still brings that incredible tone with him, from the clean, hammer like tones of "The Dark Eternal Night" to the distorted wonders of "Repentance", His presence on this album is simply one of the essential ingredients to an awesome Dream Theater song and superb album.
Drums: 9/10
Mike Portnoy is simply, without a doubt, One of the most unique drummers out there in the music world today. His technical rhythms, that change time signatures every other at times, create a heavy atmosphere that literally supports everythign on it. Even on songs like 'Repentance' where the drums are not the focus, his drumming, although be it not technical this time, is still amazing. It simply amazes me how seemlessly he integrates himself in the fabric of the music.
Vocals: 8/10
A lot of people don't like James Labrie's voice, I on the other hand, Am quite fond of it. I think he can really display the emotions that DT convey, From the sorrow, despair and depression in Mike Portnoys songs about the 12 steps of recovery from AA (Repentance is part of that, Its the seventh part i believe), To the sheer anger and power of "The Dark Eternal Night", or the Story teller like voice in "Forsaken", I think he is easily one of the most talented singers, But I will say, A lot of people dont like his tone or technique, So It might not suit some of you.
Lyrics: 10/10
James Labrie, Mike Portnoy, And John Petrucci write some amazing, vivid, and enthralling lyrics that I just lose myself in.
From "In The Presence Of Enemies: Part 1"

I saw a white light
Shining there before me
Walking to it
I waited for the end
A final vision
Promising salvation
A resurrection
For a fallen man


Do you still wait for your God
And the symbol of your faith?


I can free you from this Hell and misery
You should never be ashamed, my son
I can give you power beyond anything
Trust me you will be the chosen one

I was forgotten
A body scorned and broken
My soul rejected
Taken by his blood
Beyond redemption
I said i'm not worth saving


Forever taken
From the one I loved


Do i still wait for my God
And a symbol of my faith?


I can lead you down the path and back to life
All i ask is that you worship me
I can help you seek revenge and save yourself
Give you life for all eternity


Servants of the fallen
Fight to pave the way
For their saviour's calling
Of this wicked day
Through a veil of madness
With a vicious play
One man rises on
Standing in their way


Redemption
Redemption for humanity.



From "The Dark Eternal Night"

No one dare to
Speak of the terrible danger
The hideous ancient warnings
Forged in the void of night


He has risen up out of the blackness
Chaos belongs to the prophet's sinister
A sickening monstrous sight


Through the stifling heat underneath the pale green moon
Hungered with the thirst to see things not yet seen
Climbing endless stairs, leading to the choking room
Eager to explore this most shocking mystery


Drifting beyond all time
Out of a churning sky
Drawn to the beckoning light
Of the dark eternal night


Black forces rage in a vortex, fighting
Rays of destruction swallowing
The emblem of the universe


I am the last
Born of the blood of the pharaohs
The ultimate god of all-creation
Sent to unleash this curse


Restless crowds draw near
Nameless herd in forms of fear
On this fallen routes
Grotesque creatures battle
Settle on a stream
His yellow face it now draws near
They get monuments
Corpses of dead worlds left behind




From "Repentance"

Hello, mirror
So glad to see you my friend
It's been a while


Staring at the empty page before me
All the years of wreckage running through my head
Patterns of my life I thought I don't ...
Revealing hurt for shame and deep lament


Overwhelming sorrow now absorbs me
As the pen begins to trace my darkest past
Signs throughout my life that should have warned me
Of all the wrongs I've done for which I must repent


I once thought it better to regret
Things that I have done and haven't


Sometimes you've got to be wrong
Learn the hard way
Sometimes you've got to be strong
When you think it's too late


Staring at the finished page before me
All the damage now so clear and evident
Thinking 'bout the dreaded task in store for me
A bitter fear at the thought of my amends


Hoping that the step will help restore me
To face my past and ask for forgiveness
Cleaning up my dirty side of this unswept street
Could this be the begin of the end

I once thought it better to regret
Things that I have done and haven't

Sometimes you've got to be wrong
Learn the hard way
Just when you're through hanging on
You're saved.



Overall Impression: 10/10
A magnificent album from Dream Theater, amazing riffs, awesome solos, great drums, searing vocals, and heavy bass all put together to form one of DT's best albums, and one of the best progressive albums I've ever heard. Simply a must for all DT fans.